Sex in a Tent
How to plan a camping trip you both will enjoy.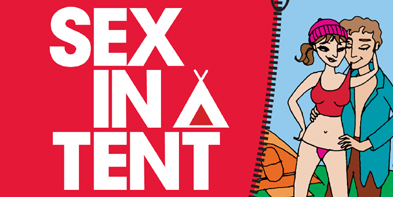 Photo courtesy: Wilderness Press
---
Sex in a tent probably isn't at the top of most couples' list of most desirable places to do it, but Michelle Waitzman thinks it should be. She's the author of the new book Sex in a Tent: A Wild Couple's Guide to Getting Naughty in Nature (Wilderness Press). Waitzman and her husband have been getting frisky in tents for years, and she wants everyone to know how sex in nature can bring a couple closer.

"In reality, the pursuits of the great outdoors and great sex are not all that different. Think about what people look for in great sex: spontaneity, adventure, mystery, excitement and uncertainty," says Waitzman. "If your sex life is lacking excitement, the problem might be the scenery, not the performers."

So get out of the bedroom and into the woods with Waitzman's tips for turning a weekend in the great outdoors into a weekend of great sex.

Build Your Love Nest
Sex in a tent is uncomfortable if you don't plan ahead; the quarters are tight, the ground is hard and the nights can be cold. Make your tent more comfortable and welcoming with these three essential items:

* A three-person tent. The extra space will make navigating those tricky sex moves much easier.

* Sleeping pads. Sleeping pads not only provide a barrier between you and the cold, hard ground, they keep the person on the bottom from feeling every twig and rock poke into their back.

* 'Mating' sleeping bags. "If your bags zip together, you'll have a much easier time getting intimate, particularly on a cold night," says Waitzman. "It's also nice to be able to cuddle together in one bag all night, instead of separating after sex."

Add Some Romance
"Think of your tent as your own little honeymoon suite," says Waitzman.

Start by adding mood lighting. Create some ambiance by placing a scarf or bandanna over a flashlight that you can hang from the tent ceiling or stick in a tent pocket.

"Just beware of illuminating yourselves in the tent if you're camping near others—unless you're into that sort of thing."

Waitzman also suggests bringing tea lights, which are stable and well contained. There's no telling what might happen once things get hot and heavy, though, so you may want to save the open flames for the campfire if you don't trust yourself.

Keep it Clean
Sexual hygiene is essential when you're stuck in the woods. Not only do you want to smell nice and fresh for your partner, you also want to keep your sleeping bags and tent as clean as possible.

Waitzman suggests using condoms to avoid mopping up afterwards, and laying a barrier, such as a towel or blanket, between you and your sleeping bag. "If you do end up with a wet spot on your sleeping bag, blot it with a damp towel—or some absorbent clothing or tissues—right away so that the moisture doesn't seep into the filling."

And don't forget the baby wipes—one of the most important items to bring on any camping trip.

"These little cloths are essential to give you a quick clean in the wilderness," says Waitzman. "You can get rid of the day's sweat, sunscreen and bug spray to make yourselves more loveable and lickable, in seconds. They're also good for cleaning up after sex."

Be Adventurous
It just takes a little bit of planning to turn your next camping trip into a romantic getaway for two. Any couple with a sense of adventure and a love for the outdoors is bound to find fun in the forest.

"That sense of adventure and play is what gives sex its spark," says Waitzman. "You never know what you'll discover in the great outdoors."


---