What Smart Couples Know
Read about the secrets to a happy relationship and listen to the sounds of your generation.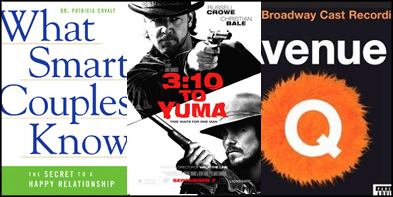 ---
READ
What Smart Couples Know: The Secret To A Happy Relationship
By Patricia Covalt, Ph.D.
www.amanet.org

You took your marriage vows believing that you and your spouse were in this for the long haul. Author Patricia Covalt has authored a book detailing tips on what makes couples last for the distance. She teaches you how to improve your Emotional Intelligence (EQ) in dealing with your spouse and resolving conflicts. She also gives you the tools to examine your own relationship—Chapter 3 is all about "Friendship to Sex." The author even touches on how your physical health and fitness affects your relationship. Definitely a must-read for any couple seeking more clues about increasing intimacy and strengthening their foundation.

WATCH
3:10 TO Yuma
Russell Crowe, Christian Bale
http://310toyumathefilm.com

A brilliant western that touches on themes of honor and the classic nature of good versus evil, 3:10 To Yuma is the tale of rancher Dan Evans (Bale) who volunteers to be part of the crew to take notorious outlaw Ben Wade (Crowe) to the train that will take him to prison—an almost impossible task as Wade has a full gang of pistoleers willing to kill to free their leader. Crowe plays a charming, yet menacing bad guy—you're never sure when his cool cover will give way to cold killer. It is Bale, however, who gives the film its tortured soul with his deftly layered performance of a Civil War veteran whose main goal is providing for his family. From duty to family to the very essence of what it means to be a man, this film is enjoyable on every level—from rugged shoot-em-up to intricate character study. Directed by James Mangold (who most recently helmed Walk The Line), this film stands with such recent western classics like Unforgiven and Open Range.

LISTEN
AVENUE Q
Original Broadway Cast Recording
www.avenueq.com

Even if you're not a fan of Broadway showtunes, this is a must-listen for all twenty-and-thirty somethings. The soundtrack touches on every coming-of-age issue people face as they leave college—unemployment, relationships, marriage, sex, racism and every other non-suitable-for-children theme imaginable. The brilliance of the music will have you nodding your head in agreement, even as you're laughing your ass off at the irreverence. From the opening song "It Sucks To Be Me" to the whole cast hilariously challenging PC society with "Everyone's A Little Bit Racist," you'll blush even as you try to hide your smile. Check out "The Internet is For Porn" for a guffaw… even as you smile at the "If You Were Gay" song about a friend encouraging another friend to come out. As a bonus, check out the YouTube (click here) version of this song intercut with Senator Craig's newscast proclaiming his heterosexuality.


---
---
---
Leave a Comment