Pumpkin Patch Romance
Pick a pumpkin and the perfect date for a beautiful fall day.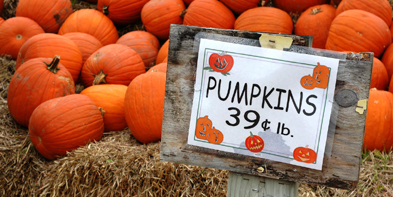 ---
October is one of the most beautiful times of year: the air is crisp, the leaves are falling and the sun is still strong enough to warm the afternoons. These picturesque days are the perfect complement to a fun-filled day of pumpkin picking and other fall activities. So grab your sweetie and your favorite warm sweater and plan a romantic fall date at your local pumpkin patch.



Pick a Patch


Whether youíre in the city or already in the country, itís easy to find a farm offering fun fall activities. For a state-by-state listing of pumpkin patches, corn mazes, hay rides and Halloween events, visit www.PumpkinPatchesandMore.org .



The Perfect Pumpkin


Finding just the right pumpkin out of acres of choices isnít easy, but it sure is fun. Make the hunt easier with these pro pumpkin-picking tips:

Look at the pumpkin from all sides. Make sure the color is uniform and there are no bruises, scars, soft spots or signs of mold.
Avoid lopsided pumpkins by testing to see if it sits upright in a level, even fashion.
A smooth, flat surface makes it easier for carving, so pick a pumpkin with a little personality.



Fall Food


When heading out to a pumpkin farm, come hungry and enjoy the food. From kettle corn to funnel cakes, youíre bound to find something that satisfies your fall cravings. And in case you didn't know, pumpkin is said to boost fertility!



Amusing Activities


You donít have to be a kid to join in the fun and games; chase each other through the corn maze, enjoy the hayride and get your face painted. It's important to head to the pumpkin patch with a good attitude and a mindset that you're about to partake in some serious fun.



Country Crafts


Many farms set up craft shows to coincide with their pumpkin-picking festivities. This is a great opportunity to create something with your spouse that you can bring home as a souvenir from your date to remind you of all the fun you had. A key to remember this time of year is to look around and take advantage of all the seasonal activities that pop up.


---