Fresh Peach Chutney
Add some fresh peach chutney to some grilled pork chops and call it a night.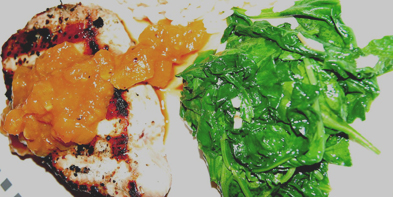 ---
Here is a great recipe for a cool fall night. The fun is in making the chutney, which will have your kitchen smelling like a New Delhi market. You'll probably have enough leftover to liven up other dishes with chutney, from cheese to sandwiches.

For dinner tonight, try a grilled boneless butterfly pork chop topped with a little of the warm chutney. Serve with saffron rice and some steamed broccoli and you have a healthy tasty meal for you and your partner. You may even think you have been to India and back!

Open a bottle of Rodney Strong merlot or cabernet. I love this vineyard and they make a robust, but not too dusty cab that works great with meat.

Ingredients:
Four butterfly boneless pork chops (the chutney is also great with lamb, steak, or even grilled chicken.)

For the peach chutney:

About a dozen pealed and sliced peaches
1 vidalia (or other sweet) onion - diced
Three fingers of ginger—minced in the food processor
3 cloves of garlic
Olive oil
1 tsp. ground cumin
1/2 tsp. cayenne pepper
2 tbsp. rice wine vinegar
1 tbsp. balsamic
1 cup water 1 cup brown sugar
1 cup chopped pecans
Salt and pepper to taste

Instructions:
Sautee onion, garlic, ginger, cumin and cayenne. Add peaches, brown sugar and vinegars. Simmer until peaches are soft. Add chopped pecans and continue to cook until mixture is like jam. Consider adding chopped dried apricots, golden raisins, or cranberries for a little extra zing.

Serve warm on meat. Or chill and use for a spread on sandwiches or poured over soft cheese like brie or camembert. Make extra chutney and try it all of these ways over the course of a week or so.

Also, consider trying a different fruit for your base. I have made this recipe with all sorts of in-season fruit. Try fresh nectarines, any kind of apples, plums, apricots or whatever is in season in your area. You can also try a mixture of all of these fruits.

Owner and Head Chef Mitchell Anderson created MetroFresh Café in Atlanta, Georgia; though he still acts occasionally, most days you can find Mitchell in the kitchen or otherwise handling the business of the restaurant that touts itself as a healthy alternative to fast food. Check out his website at www.metrofreshatl.com to find out more about this actor turned chef.


---
---
---
Leave a Comment