The Buzz On Vibrators
A couple's pleasure toys can mean the world, but do you and your spouse have the right kind?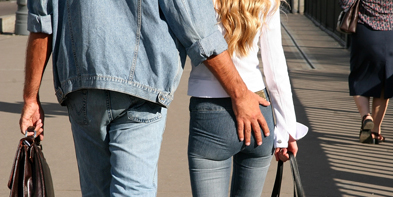 ---
By far the biggest category of adult products, after pornography, is the production and sale of vibrating toys. The majority, over 70 percent, are made in China and sold all over the world with a remarkable lack of oversight. It is safe to say that adult novelties are products that everyone wants, but most aren't willing to talk about.

While there has been some press on the detrimental effects of vibrators and the dependence some women develop on them for being able to find orgasm, they have also been profoundly instrumental in allowing women to have an orgasm in the first place. In fact, a little bit of recently uncovered history has linked the invention of vaginal vibrators to Victorian physicians who were treating women with "hysteria" and bringing them to orgasm as a form of health care. The recently released documentary "Passion and Power: the Technology of Orgasm" tells the story of both the development of vibrators and their influence on the female experience of orgasm.

The range of options available is dizzying. One can find vibrators in every color, size and material from soft and squishy to titanium. Even the categories of vibrators and dildos can fill a webpage; every thing from clitoral, missile, waterproof, vibrating erection rings and more. With over 12 percent of the internet devoted to adult themes, it is hard to know even where to begin to find out the answers to even the most basic questions. There are a few couple-friendly websites that are tasteful and informative you might want to consider paging through.

* Freddyandeddy.com is a great resource and owned by some friends who always have something to teach me about the range of products and info available.

* Another, wildinsecret.com has a tasteful and discretionary tone and has a pretty good blog as well.

* Goodcleanlove.com offers a wide array of health conscious and eco-friendly love products and toys, too.

The majority of adult products are made with plastics, which is an important consideration as you become a consumer. Sadly, the lack of regulation and oversight in this industry has created a number of products that have been found to be extremely dangerous, with both low-quality ingredients and bad plastics that can give off gas and leak nasty chemicals.

European studies of adult toys have shown extremely high levels of gasses given off by some plastics in which dangerous chemicals like phthalates are apparent in very high concentrations and, on some levels, even been linked to cancer and damage of the reproductive system. Being an intelligent and conscious consumer of adult products is an absolute necessity in this unregulated market, so please consider this a health warning and ask about the ingredients and the coating on the soft jelly and "cyber skin" items which are popular and often made with cheap PVC.

All of that said, there are some really great eco-friendly and safe toys to use that can add excitement and novelty to the bedroom. As in any industry you get what you pay for, and when I first brought home some cheap phallic shaped vibrators, my husband was uninspired to say the least. So, be prepared to invest in toys that are responsibly made, luxuriously beautiful, functional and long lasting. Moving up in price point positions you from shopping for a vibrator to selecting a pleasure object--a distinction definitely worth the investment.

A couple of my favorite companies in the mid and upper price ranges include two European manufacturers: The German Fun Factory and Lelo. Both of these companies offer a wide range of styles and shapes. These more upscale vibrators use plug-in chargers instead of batteries and offer much quieter motors with up to 16 different speed variations. There are always new designs coming out and I am really excited to add a couple of the new designs to our offerings, especially the new Gigi, which promises almost certain success for any woman trying to find and understand the G-spot.

Accessories can get your imagination rolling and as Einstein said, "Imagination is more important than knowledge." Certainly when it comes to physical intimacy, allowing our imagination a bit of free-reign can only help to unleash some undiscovered passion, which is the point of all the millions of dollars of adult novelties; finding more and better ways to share deep personal pleasure.

Wendy Strgar is the founder of GoodCleanLove.com, which provides products and advice for sustainable love. If you have questions about products or toys send them in and Wendy will be happy to share her knowledge.


---