Foxx In Miami
This week we explore Lies at the Altar, Tom Petty's new album and Miami Vice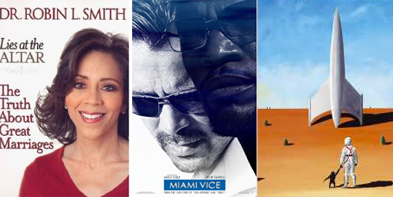 ---
READ
Lies at the Altar: The Truth About Great Marriages
By Dr. Robin L. Smith
www.liesatthealtar.com

It's funny how you never truly know someone until you marry them. Marriage is designed to bring two people together, so why is marriage so often the deal-breaker for once perfectly happy couples? In Lies at the Altar, Dr. Robin L. Smith reveals the outrageous expectations, hidden agendas, unasked questions and unspoken needs that linger beneath the surface of every couple's relationship. Through her own stories and the stories of couples she's counseled, Dr. Smith reveals how truth is the most important vow a couple can make, and why it's essential to live your vows long after you've left the alter.

WATCH
Miami Vice
Colin Farrell and Jamie Foxx
www.miamivice.com

Grab your salmon-colored shirts and white linen pants—the infamous 80s TV show Miami Vice is hitting theatres this week in all its original cocaine-dealer-busting glory. Directed by Michael Mann, Colin Farrell and Jamie Foxx take over the roles of Sonny Crocket and Ricardo Tubbs, undercover agents fighting to keep the muggy streets of South Florida free from drug-trafficking scumbags. This time the duo is up against vicious killers from the Aryan Brotherhood and a sophisticated network of globalized traffickers protected by world-class security. Go to watch the hot babes (male and female) and to reminisce about the good ol' days of television in this action-packed remake.

LISTEN
Highway Companion
Tom Petty
www.tompetty.com

Tom Petty's brand of straight ahead, American Rock n' Roll is back after 12 long years with his third solo album, Highway Companion, released July 25. Petty describes his new album as being about the passing of time, and the classic rock album is definitely a good companion on your long summer road trips. Highway Companion is expected to be the best solo album he's released so far, but the slicked-down production may leave you yearning for the authentic sound of his Heartbreakers band mates.


---
---
---
Leave a Comment