Use Your Halloween Costume for Role Play
Take advantage of the costume season by playing out one of these eight sexy fantasies.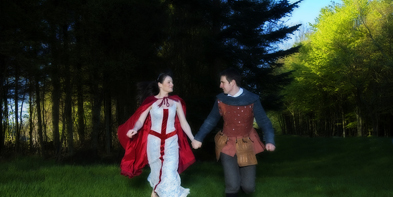 ---
"
One of the perks of marriage is the ability to play out your wildest fantasies with the one person you trust the most."
As a kid, you thought Halloween couldn't get any better: staying up late, eating massive amounts of candy and dressing up as your favorite character—what more could a kid ask for? Luckily for your inner child, the fun doesn't stop as an adult. Halloween is still about staying out late, consuming massive amounts of sugar and—best of all—dressing up in outrageous, sexy costumes.

"I love Halloween because it's the only time of year I can dress as sexy as I want and get away with it," says Shannon*, 30, who says she wouldn't be caught dead wearing such provocative outfits any other day of the year. "Every girl secretly wants to dress sexy and show their body off, but Halloween is the only time of year you can do it without looking slutty."

"Slutty" is in the eye of the beholder, but one thing's for certain: no guy's going to complain. The only complaint Shannon's husband, Chris, has is that Halloween only comes once a year.

"Now that we're married, I have a little more say in what she gets to wear. She usually takes requests, so I get to pick what fantasy I want this year, and she dresses up for me," says Chris, 32.

One of the perks of marriage is the ability to play out your wildest fantasies with the one person you trust the most. Even if you're shy, Halloween is the perfect excuse to let your inner fantasy play out—whatever it is. From Halloween stores to websites, there's a sexy costume for just about any fantasy. Ready to pick one of your own? Here are just a few ideas to get your bedroom rocking Halloween night.
Teacher and Schoolgirl. Has your student been a bad girl? Make her stay after class and earn her A.


Construction Worker. No girl can resist a guy who's good with his hands. Rip off his tank top and put him to work.


Policeman or Policewoman. Frisk your partner and cuff them to the bed.


Secretary and Boss. Staying late at work has never been so fun. Clear some room on your desk for all the extra work you'll be doing.


French Maid. Dusting those hard-to-reach corners is always more fun when you're wearing a short skirt.


Doctor/Nurse and Patient. You'll feel much better after your checkup with Dr. Seymour Bush and Nurse Anita Hardawn.


Cheerleader and Football Player. Make her jump for joy every time you score.


Repairman. All good pornos start with a repairman. Call your very own to find out why.
* Editor's Note: Last names were omitted by request
---