Hector Hernandez and Genevieve Kirk
Hector Hernandez and Genevieve Kirk, both 27, have been married for nearly six years. They studied in Paris, lived in Mauritania, Africa, and now live in Milwaukee, Wisconsin. Today, Hector is a global tax analyst and Genevieve is a volunteer coordinator.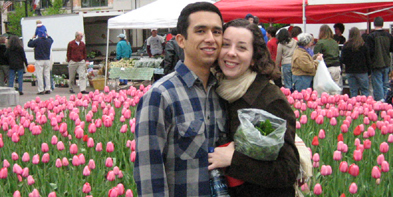 Hector Hernandez and Genevieve Kirk
---
GENEVIEVE
Marriage has taught me…
(1) That planning for the future is about compromise and making sure each other's needs and wishes are filled.

(2) To be especially nice to my husband on his birthday. I know that he appreciates having a special day.

(3) It's okay to drop an argument before it becomes an all-night debate. We usually can't remember the trivial things we bickered about by the next day anyway.

(4) That money is nice, but it doesn't have to dictate your life decisions. We lived in Mauritania on $300 per month!

(5) That the house gets cleaner faster with two people pitching in and doing the cleaning.

(6) That family ties are strong, so be sure to spend time with the in-laws—when you can.

(7) That it takes two heads to make decisions about important things in life like career, family and religion.

(8) That couple time is great, but time alone is important too.

(9) That it's good to break out of the day-to-day routine: take a trip, go out for a fancy dinner or just take a walk. Distance gives perspective.

(10) That when traveling, be prepared for the unexpected. Traveling is an adventure and so is our marriage.

HECTOR
Marriage has taught me…
(1) Planning for the future is in the Lord's hands. Anything can happen. We tend not to plan ahead of ourselves because we don't sit still in the same location for long and don't know what we'll be doing down the road.

(2) Celebrating special events like anniversaries and birthdays is always more fun with my wife. And we must always have cake.

(3) That when it comes to winning arguments, don't even try.

(4) That money is easy come, easy go. We like to spend money on the same stuff, like restaurants and vacations.

(5) That when it comes to cleaning, men scrub the toilets and tubs, women sweep and mop the floors.

(6) That spending time with the in-laws is a must. My mother-in-law tries to fatten me up with delicious homemade meals and asks me to shoot squirrels in her yard with her BB gun.

(7) That the important things in life must be important to both of us to mean anything.

(8) That my private time is when I jog or read. Other than that, I don't need any.

(9) Eating out is one of the best things for us to do together. In a lot of ways, our marriage is built around food.

(10) To be sure to plan our vacations around food destinations.


---
---
---
Leave a Comment