10 Couples Talk
Read what 10 couples have to say about marriage, watch Jennifer Aniston and Vince Vaughn "Break-Up" and listen to Gnarls Barkley go "Crazy"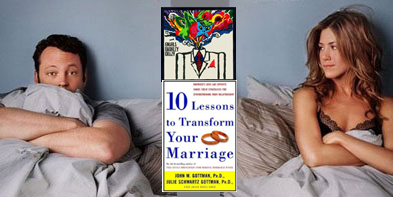 ---
READ
Ten Lessons to Transform Your Marriage
By John Gottman, Ph.D; Julie Schwartz Gottman, Ph.D; and Julie DeClaire
www.randomhouse.com/crown

In Ten Lessons to Transform Your Marriage, authors John and Julie Gottman and Julie DeClaire share decades worth of research about what makes a healthy, happy marriage work. Their book follows 10 couples, before and after counseling, and describes how they worked through a series of potentially destructive problems ranging from parenting issues to the lack of intimacy. It's an insider's look into how couples can strengthen their marriage through (surprise, surprise) communication and being friends.

WATCH
The Break-Up
Jennifer Aniston and Vince Vaughn
www.thebreakupmovie.net

While it's expected that a majority of the holiday weekend crowd will fly in to see the Man of Steel, now may be a good time to catch another movie before it leaves theaters. After all the off-camera hype surrounding the movie, The Break-Up actually delivers a touchingly funny, and sometimes raw account of what happens when a couple breaks up. When Brooke (Aniston) and her boyfriend Gary (Vaughn) split, neither person is willing to move out of the condo they share. Realizing she may have made a mistake, Brooke tries every trick in the book to make Gary realize she's worth fighting for. Gary, on the other hand, tries everything he can do to "man up" and make her think he doesn't need her. While the title may seem paradoxical to what hitched would preach, it offers something men and women can enjoy. The end result is a funny movie that reminds you of every break-up you've ever been through.

LISTEN
St. Elsewhere
Gnarls Barkley
www.gnarlsbarkley.com

St. Elsewhere is the highly anticipated album from Gnarls Barkley, a collaboration of musical righteousness from artist/producer Danger Mouse and rapper/singer Cee-Lo. This duo is touring throughout the summer with appearances in a number of festivals in Europe and performances across the globe. The first single, "Crazy", is a great description of the buzz around this band; the single became a worldwide internet sensation six months before the album's official release. This genre-defying album has a little something for every type of music lover. From pop and hip-hop to soul and rock, Gnarls Barkley effortlessly blends Cee-Lo's soulful crooning with flutes, violins, trumpets, electric guitar and Danger's signature beats. It's an odd combination that works beautifully, making this one of the most memorable, groundbreaking albums of the year.


---
---
---
Leave a Comment