Fire and Spice
Get the warm and fuzzies with a proper bonfire.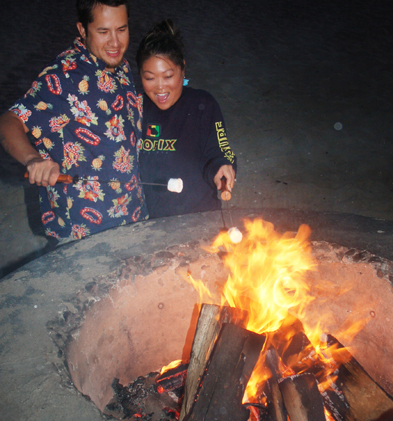 ---
Picture this: a warm fire burning in the background, peacefully. There's a flickering of dancing flames and the occasional crackle of kindle and burning ember flying into the abyss. You feel flush, but it's just the heat causing a natural glow to the cheeks, or maybe it's the luminous energy casting your spouse in flattering shadows that's stirring up some unfettered desires. A sweet taste, familiar and welcoming caresses your lips as a flood of endorphins fills your senses.

Now cool yourself off, because this isn't an X-rated scenario, though we can't tell you where things go after the date. You've just got a glimpse of your next date night, your own special bonfire.

Hear the word "bonfire" and maybe you hearken back to the days of kiddie gatherings or teenage escapades. But now you're an adult, and it's about time you do a bonfire right.

Bolsa Chica State Beach in Huntington Beach, California, is home to a stretch of sand lined with fire rings and plenty of bonfire enthusiasts. Lon Graham, lifeguard supervisor at the popular spot and other California State parks, says bonfires are in heavy demand, especially during the weekends in the summertime. If you're thinking of doing a bonfire during then, be sure to show up early before sunset, because it's first come, first serve.

If you have the chance to be choosy, "Pick one close to a beach restroom and showers so you can rinse off your feet when you're done and wash your hands before you eat," says Graham. Also Graham suggests that you inspect the pits. Some are littered with clothes hangers and trash, so pick one that seems clean and well maintained. So you don't ruin the date when the wind switches direction, choose a ring that's towards the end of the row so you and your "date" don't get smoke blown in your face and end up wearing the bonfire home.

Like the Boy Scout motto goes, "Always be prepared." Nothing's worse than heading out on an exciting date only to look like a fool when you're ill prepared. Wear or bring warm clothing in case the temp cools, though snuggling is still completely warranted. If you're lucky enough to bonfire at the beach during red tide, you'll see the water glow with bioluminescence, as well as tracing your feet along the shore. Tents aren't allowed at most state beaches, but E-Z Ups are, if you're looking for shelter. Bring natural firewood or cut up 2 x 4s to burn, but no pallets. For a few hours, bring at least two to three bundles of wood, but it never hurts to bring extra, especially if things heat up between the two of you and you want to linger longer. Newspaper, kindling and lighter fluid will also help get the fire going.

Graham's instructions on building the perfect bonfire are fairly simple. Take some individual sheets of newspaper and wad them up in ball. Placing them at the bottom, take kindling and lay them teepee style over the newspaper. As you build your firewood, use small ones first, then larger. "If you buy firewood from the store, get the ones that are nice, dry and split," says Graham, who adds, "If you plan on cooking, it makes a nicer date to bring a small barbecue or hibachi instead of using the pit. When you're all done, just let the fire burn down to embers on its own," says Graham.

The best part of a bonfire is the same from when you were a kid, though the old metabolism might require a harder workout the next day. Hey, what goes on after the bonfire could definitely help. S'mores are a bonfire ritual that can't be overlooked, diet be damned! Fluffy marshmallows, your favorite chocolate bar (you simply can't go wrong with a Hershey's bar) and graham crackers are really all you need, and of course a skewer of some sort to toast your marshmallow.

While some take toasting marshmallow to mean thrusting it straight into a flame and burning it to a dark crisp as they imagine their boss's latest tirade, many prefer a more skilled method. Take the marshmallow skewer and hold it high enough over the fire, patiently turning the skewer like a spit as the heat slowly but surely crisps the outer layer of the marshmallow into a golden tan, while the inner layers melt evenly. When you press the marshmallow between the two pieces of graham cracker and chocolate, which immediately melts a bit from the white-marshmallow heat, you begin to feel the anticipation growing inside as your tongue yearns for the satisfying treat. Enjoy the look of ecstasy as your lover closes his or her eyes and takes in the decadence of the moment, a look you'll hopefully be able to duplicate later at your discretion. But as you sit under the stars with your bonfire date, licking the remnants of s'mores should it cling to the corners of your loved one's mouth is a moment not to squander either.


---