Gifts for the Whole Family
Want to find something that everyone can enjoy together this holiday season? Look no further.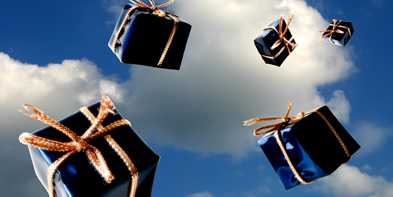 ---
If spending more time as a family is going to be one of your New Year's resolutions, why not help yourself out with a holiday present that everyone can enjoy together? In this last-minute push at the end of December, we've got five picks that can work for your family, whether you have children or not.

1. Nintendo Wii
The year-old gaming system is still at the top of many families' holiday lists because its games are fun for anyone who can hold a Wiimote. And, with new releases like Guitar Hero III and Boogie, the console is finding even more ways to test your skills and get you off the couch. If you're lucky enough to snag one—they're in short supply—it shouldn't be hard to get your kids to participate in game night.

2. Season Tickets
Whether your family is into football, theater or going to your local amusement park or ski hill, getting season tickets will allow you to share your favorite pastime and get you out of the house all together. Season tickets will also motivate you to get your money's worth out of your purchase by using it frequently, which shouldn't be hard—you have a whole year ahead of you.

3. Pets
Though you don't want adopting a pet to be a rash decision, it could be the one gift that'll dwarf all others and give your family something to bond over. Whether it's the puppy your kids have been asking for as long as you can remember or a critter that requires a bit less attention, like a hamster or a turtle, adding a four-legged-friend to your family will give you new experiences to share every day.

4. Vacation
If you can plan now for a vacation, surprise your family with plane tickets, a hotel reservation or a trip itinerary. Just make sure it's somewhere everyone wants to go, or you may end up with a mutiny on your hands. And if you're not quite ready to make a booking, consider getting camping equipment, new luggage or another item you can use when you are.

5. Vudu
For the family into film, Vudu is a must-have. This set-top box lets you rent or buy a whole host of movies and watch them instantly—no more dealing with scratched DVDs, driving to Blockbuster or waiting for the postman to come with your Netflix. And if you order before the New Year, you'll get a $50 credit to get your library started.


---
---
---
Leave a Comment