Mental Snapshots During Holidays
The holiday season is a great time for taking mental snapshots of your intimate moments.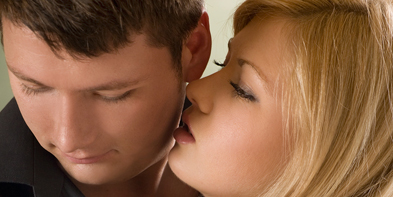 ---
As a young child, I was bothered that so many people had birthdays around the same time as my own (September 20). At age 11, I found out that a baby takes nine months inside a tummy and counted back the months to my own conception. I was shocked to find out my parents probably had sex on Christmas day. In fact, I realized at that young age a lot of parents were having sex around the holiday season.

The holidays were never the same for me.

Now that I have matured, I realize that good sex is built upon the shoulders of shared intimacy. Realistically, it is impossible to create intimacy day-by-day, hour-by-hour, minute-by-minute. Rather, intimate moments are caring and romantic snapshots of situations we find ourselves in.

The great thing about the holiday season is it allows us to have many memorable snapshots of intimacy with our partner. The trick is to be present when it occurs and smart enough to lock it into our memory vault when life becomes mundane.

There are no shortage of intimate holiday moments. For example, a friend of mine waited until her 30's to get married. She and her husband were delighted to be putting up their first Christmas tree together. As they decorated their tree, they drank eggnog and listened to Christmas tunes. Halfway through the trimming in the spirit of merriment and joy, they ended up having sex under their Christmas tree (in my opinion, that is the best kind of present to find under the tree).

More recently, I was at a Christmas function that had a dinner and a dance. After a fine meal the DJ started up. I watched a couple in their mid-50's (probably celebrating at least 25 years together) get up on the dance floor and boogie to the Proclaimer's "I Would Walk 500 Miles." It had a fast beat and yet this couple was dancing close, never losing eye contact—they were completely enamored with each other.

Another friend shared an experience that many of us can relate to. She and her fiancé felt they were being pulled every which way with the hectic pace of the holidays. In three weeks, they found themselves with only one day that did not warrant any holiday-type activity. They agreed to take-out, a movie and some relaxation.

She expressed, as they cuddled and lay sloth-like on the couch, there was a wonderful feeling of camaraderie. There was a moment (only a few precious seconds) where there was an overwhelming sense of contentment between the two of them.

There was nothing sexual about their encounter and, yet, I would define it as a very intimate moment in their relationship. This is an important snapshot to remember when the holiday season is over and watching movies, eating take-out and laying on the couch has become excruciatingly dull.

Keep watch for your intimate moments during this holiday season.

Sometimes intimate moments are planned, like when standing under the mistletoe and giving your partner a come-hither look. Or, when your partner gives you a beautiful present and you are overjoyed turning the gratitude with hugs and kisses.

Sometimes intimate moments are spontaneous, like a snowball fight (at least in snow climates). Or, locking eyes in a room full of people and giving each other a little smile. Or, after an evening of gaiety, being in a space where sex is just the right aperitif.

What makes an intimate moment great is the understanding that you are in one—pushing all the outside noise out of the way. Your outside noise might look like worrying about the presents you still need to buy, the functions you have to go to, or all the stress you are under. Instead focus on the experience, it will help to make it that much more memorable.

However you celebrate the holidays, I wish you many wonderful intimate snapshots to cherish for years to come.

Dr. Trina Read has a doctorate in human sexuality. Dr. Read is also an international speaker and offers free sex tips on her website www.bestsextipsever.com.

You can also hear more from Dr. Trina Read on the Hitched Podcast.


---