Last-Minute Wine
Looking for a last-minute wine selection to bring to your holiday get-together? Here are five that can save the night.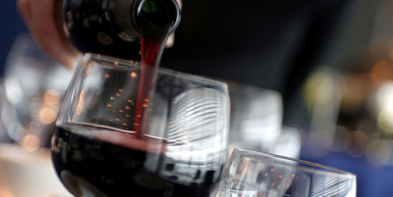 ---
One of the best things besides watching your spouse's eyes light up with that special gift is what will be placed down that night at the dinner table. And finding the perfect wine to compliment dinner will surely save the night, making the holiday feast much more enjoyable. Pick the dish closest to your dinner menu, add the wine and be merry.

Stuffed Turkey and Chicken Dishes

2006 Mommessin Château De Pierreux Brouilly AC; France, Beaujolais
Mommessin has invested heavily in upgrading this estate and it shows in the wine. This intense Gamay has loads of blackcurrant, raspberry and blueberry characteristics. A Beaujolais that's not to be taken lightly, it's rich and velvety with considerable depth and remarkable balance.
Natalie's Note: A happy wine with ripe cherries that's lovely and light.
$19.95
Score: 89/100

Grilled Meats and Lamb
2004 Masi Brolo Di Campofiorin I.G.T.; Italy, Veneto:
Full-bodied and mouth-watering with pleasant bitter cherry notes.
$24.95
Score: 89/100

Game Meats and Hearty Stews
2003 Remo Farina Vigna Montecorna Valpolicella Classico Superiore Ripasso D.O.C.; Italy, Veneto
A stunning wine, this Ripasso uses grapes sourced exclusively from the hillside Montecorna vineyard in the Valpolicella Classico zone. It has an intense nose with aromas of black cherry, chocolate, coffee, red fruit reduction and smoke. Classy and well-structured with a plush mouth feel, intense fruit flavors, hints of chocolate and good length, this wine bridges the gap between the Valpolicella Classico Superiore and the Amarone Classico styles.
Natalie's Note: Terrific value in this lovely full-bodied wine with a smooth texture. Like merlot cubed.
$19.65
Score: 90/100

Meat-Sauce Pasta Dishes

2004 ST. Francis Cabernet Sauvignon Sonoma County; California
St. Francis Winery was established in 1971 and is located in the heart of the Sonoma Valley. This rich, full-bodied Cab offers a parade of flavors, including blackcurrant, plum, blueberry and, owing to the 14 months it spends in new American and French oak, spicy oak.
Natalie's Note: Round, warm and full-bodied with notes of chocolate and plums.
$31.95
Score: 90/100

Dessert

1990 Kopke Colheita Port Matured In Wood, Bottled 2007; Portugal
If you want to surprise your guests with a real after-dinner treat pull out this 1990 vintage Colheita Port. The maturing has been done for you here. All you have to do is open and pour, awakening aromas and flavors of pear and dried berries that have been lying patiently in wait.
Natalie's Note: Love the hazelnut goodness in this fortified wine.
$36.95
Score: 92/100

* Gabriel Lefrancois contributed to this article.


---
---
---
Leave a Comment