Putting the Passion Back in Your Marriage
How can you start connecting again with the person you were once were crazy about?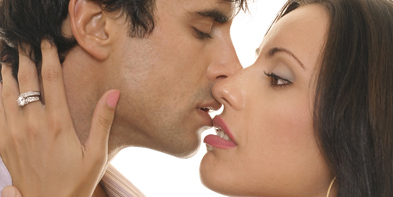 ---
Why do I feel my marriage is at a breaking point?

Relationships change over the years as our children take center stage in our lives and daily household responsibilities wear us down. Romance too often gives way to irritation and arguments. What's going on? Here are some common causes of the loss of passion in marriage.

* You're not listening to each other or even making eye contact; you're only exchanging complains and arguments––insisting that your point of view is the only right one.

* You've begun acting like roommates instead of lovers and partners working on a plan for a more joyful, passionate life.

* You talk only about chores, arguing about who's going to pick up the kids from school and activities, and about the bills.

* You and your spouse complain about stress at work and home, but seldom see the positive aspects of your life.

* You've given up your interests and passions so your life is all work and no fun––filled only with obligations, burdens and duty; you feel trapped. You've become a "workaholic" and argue that you must work long hours to support your family.

* You need quality time with yourself to remember who you are before you can have quality time with your spouse and children.

* You no longer see and comment on what you appreciate about your spouse and what you are grateful for.

* You now think of your spouse as the source of problems and pain––the enemy and the problem.

How you can start to turn things around.

What to do:

* Learn active listening skills. Learn active listening skills. Don't wait: Learn Active Listening Skills!

Okay, now that I've got that out of the way, buy a book or CD on active listening, effective communications or conflict resolution. Stop yourself from saying "Yes, but . . . " and switch to "Let me try to understand what you're saying."

* Stop arguing and defending yourself. Listen so hard to your partner that you can paraphrase back what he or she said. The goal is to demonstrate that you can acknowledge the other's point of view so that they say, "That's right. Now you understand."

* Take your ego off the line. Become so secure within yourself that you can laugh at how you deviated from your mature, higher values. Bring the humor back into your relationship. Laugh together.

* Remember why you fell in love and married this person. Tell your spouse that you want to create an ongoing relationship based on affection and mutual support and respect.

* Ask your spouse, "What five things can I do or say that will make you feel safe, respected and loved?"

* Develop a clear image of your higher values and your best self. When you slip from that path, say, "I'm sorry, that's not like me."

* Hire a babysitter and have weekly dates for dinner out, a walk or a movie. On your date night, no complaints, arguing, or talk about stress at work or daily chores are allowed.

* Find at least one thing a day for which you can complement your spouse.

* Touch your spouse everyday. If you're out of practice, start with your hand on their back or shoulder. Then advance to a neck massage, holding hands and an embrace.

* Lock the bedroom door on a Saturday and Sunday mornings and let your children know you'll have time for them after you take time for each other.

* Refuse to jump into your spouse's hallucination that you are their enemy, their problem or their solution. Once again, listen without trying to fix or solve their upset or take on the role of their problem or enemy. Stand your ground as a loving partner.

Extra tips: Rent relationship DVDs such as: All About You; I Love Lucy's second season episode on "Job Switching;" and I Love Raymond to see examples of how couples can resolve and live with differences through humor and affection.

Dr. Neil Fiore is a psychologist practicing in Berkeley, CA, a coach, a speaker, and author of Awaken Your Strongest Self: Break Free of Stress, Inner Conflict, and Self-Sabotage [McGraw-Hill, 2006]. His bestselling guide to overcoming procrastination, The Now Habit [Putnam, 2007], is revised and available at iTunes under "Audio books," and at www.audible.com under "Self-Development." You can schedule phone sessions with Neil at "Coaching" along with his "Free Articles & Tips" at www.neilfiore.com.


---
---
---
Leave a Comment