Newly Married Financial Checklist: Part 2
In part two, Brian Brogan gives you the remaining steps to set sail for financial happiness.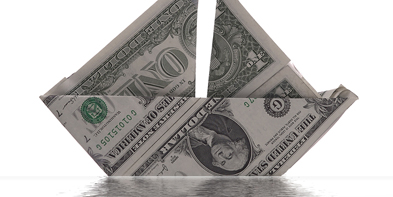 ---
In the first part of our checklist, I offered five steps to get you newlyweds going in the right direction. Now, I'm going to complete the full 10 steps. Remember, working on your financial life with your partner as co-pilots is the way to go. Sure one of you can do it while the other follows along, but it will not have the same impact on your life and long-term goals. Working as a team is critical to guarantee success in personal finance.

So the next five steps begins with setting goalsóboth personal and financial.

6) Take some time to think about the next 12 months and ask yourself, "What do we want? I bet for some of you, this question has never been asked or answered, but donít worry. No one is looking. This is an exercise to free yourself up from any mental, emotional, physical or financial blocks you may have. If this is to existential, start with your needs first.

Do you want and need to de-clutter your garage? Do you want or need to organize you office?

Once you've identified what you want to accomplish or need to do, write it down or start a word document file and save it. Review it once a month over the year. This has a direct effect on your finances and is a crucial step adds to the overall "greater awareness" of your personal finances.

7) Create the ultimate organized file system by purchasing Suzy Ormanís Ultimate protection portfolio. I am going to tell you something very important. I have been keeping organized files for over 15 years and this is your shortcut. Just buy it and follow the folder system to know what you have and what it is you need. The price is worth its cost just for the folder system alone. I purchased it via QVC and I believe they have sales most of the time.

8) Get a will and have it executed in your state. I know I just lost you. Itís boring, and your heard it before. But here is the trick. If you purchased the Orman system, it comes with a CD-ROM. If you donít get the system, go to Legalzoom.com. I have used this website and know for a fact that you can get a will for less than a hundred dollars.

9) Become friends with your debt and then terminate your friendship! In the past, I, like most young Americans, have embraced the consumer belief that some debt is good and some debt is bad. Not today! Today, I say all debt is bad.

I say this because most of us donít have the knowledge and discipline to carry debt and know if itís good or bad. We collectively need help in this area. I would like to share with you David Ramseyóthe man you need to attack your debt and make it go away for good (www.daveramsey.com).

10) Start or make additional investments in the stock market. Those of you who have followed me know that Iíve not been a bull in this market for over two years. I say itís starting to look like its time. Time to start to accumulate stocks whether individually or via index exchange-traded funds (ETF). The accumulation phase should last you over the next 12 monthsó the dollar cost average into the market.

If you donít like the stock market then look to buy your next home once prices have been cut and rates on a 30 fixed loan is below 6 percent.

So there it is! I personally believe that if you follow my simple 10 steps your financial life will be set up for success. Build it and it will come.

To read the steps 1-5, click here.

Vice President Brian D. Brogan of H.G. Wellington & Co. Inc. Mr. Brogan can be reached at bdb@signalreport.com or 610-896-8823.


---
---
---
Leave a Comment