Steve & Dana Krashin
From the reality TV series, "Here Come the Newlyweds," Steve and Dana Krashin open up about their marriage and their time on the small screen.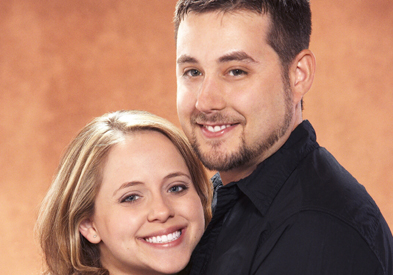 ---
MARRIAGE STATS
Married: 3+ years
Kids: 0
Notable: Making their television debut on ABCís new reality series, "Here Come the Newlyweds," Steve and Dana Krashin, of New York City, have one advantage over the other just-marrieds on the show: they dated 11 years before tying the knot. After meeting in high school, the pair didnít feel a burning need to get married until they got older and started thinking about practical stuff like insurance and getting their families off their backs.

[1] How did you get involved with the show? What was your impetus for being on the show?
Dana: Steve worked for this lovely company for close to 10 years and then he got laid off. About two days after he got laid off, I was looking on Craigslist for some job listings for him, and there was an ad searching for couples. Because that was way easier than sending in resumes, I decided to send in for that. It was all very fortuitous.

[2] What have your experiences been on the show? Have you learned anything new about each other, even after being together this long?
Dana: I didnít think we could learn anything new about ourselves, but I think that maybe we realized, correct me if Iím wrong hon, that maybe weíre a little bit tougher than we give ourselves credit for. It was a lot of fun and a lot of games, but a lot of stressful stuff too. And weíre still standing today, so thatís a good sign.
Steve: I learned not to take my wife on TV shows with me.
Dana: [Laughs]

[3] What were some of the challenges of being on the show?
Steve: There were various mental and physical challenges, and definitely in the first episode, youíll see us trying to drive a car blindfolded.
Dana: Which Steve has actually done before.
Steve: Yeah, thereís a back story there. At the promÖ we were driving in the parents van, and my wifeís riding in the back seat when the girl next to her decides she wants to change her shirt. My wife cups her hands over my eyes and says, "Donít look!" Meanwhile, Iím like, no problem. Then I realized: Oh my God, Iím driving 65 miles an hour down the highway. Of course, I freaked out on her at that point. This one I was just freaking.

[4] What kind of mental challenges were there? Were there questions on how well you know each other or questions that asked you to predict each otherís responses?
Dana: We did a lot of trying to figure out how our spouse would respond or trying to match each otherís answers, which we thought we would do really well. So I guess youíll have to watch the show and find out how we did.

[5] Would you recommend that other couples do something like this? Did you come out of it stronger?
Steve: I would highly recommend this type of experience. You grow within yourselves, within your relationship and you definitely learn some things. When you watch the show, youíll be like, "Wow, that must have been a lot of fun to do." Other things scare the hell out of you. Youíll see what Iím talking about.
Dana: I definitely think itís really important, especially when youíre a newly married couple that's learning to laugh together. Thatís really the only thing thatís going to get you through the stinker times of marriageójust being big old dorks together.

[6] After being together so long, did you feel a change when you got married?
Steve: I think itís a little more subtle than what a lot of people go through if they get married earlier than a decade of knowing each other.
Dana: I didnít really notice much of a change other than new jewelry and new kitchen appliances. Weíd been dating for 11 years when we got married, so I definitely think we knew the other one wasnít going anywhere. It was really a nice experience to share with our family and our friends and say hey, respect our relationship, because now itís official.
Steve: And grandma you canít bother me anymore when my wife stops in and you look at her hand and you say, "Thereís still no ring on that finger!"
Dana: I know, and I get checks from the grandparents on my birthday now because Iím official.
Steve: And I think itís an interesting thing to go through planning a party of that magnitude too because thatís all part of it.
Dana:You definitely donít have to spend a gazillion dollars on your wedding to have it be special. Ours was very low key and moderately priced and was still really special for everyone. And it didnít hurt us afterwards financially too much. So that made it even the more enjoyable.
Steve: Yeah, weíre cheap asses.

[7] On your bio from the ABC website, Dana, you feel like Steve should have ESP about you?
Dana: I definitely think sometimes I overestimate his ESP. When we had this interview today, I almost forgot to tell him about it. I just kind of assumed he knew. I definitely think heís better than most people are in the ESP department, but sometimes, I might overestimate and it might hurt thingsólike when we double book ourselves and I just assume he knew that we had plans with someone else.
Steve: And then youíll exaggerate and say things like, "I told you a thousand times!" when you really told everybody else except me.
Dana: "I told you a thousand times," always means that I thought it in my head once and hoped to tell you someday.

*Be sure to listen to our podcast with the host of "Here come the Newlyweds," Pat Bullard. (click here).

*Read our profile on Crystal and Johnnie Moutra, also from "Here Come the Newlyweds" (click here).


---
---
---
Leave a Comment