It's Not Too Late for a "March Madness" Party
There are four great excuses to throw a party in March: Going to the Big Dance, Sweet Sixteen, Elite Eight and the Final Four. Brackology anyone?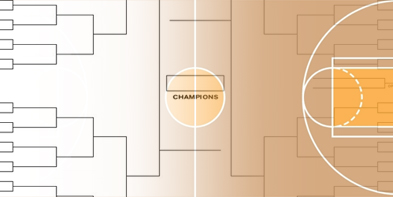 ---
March Madness is here. There is no escaping this college basketball whirlwind. At every party, the question is, "Where can we see the game?" "Can we bring in a TV?" If I can't avoid it at a wedding—where some guests wanted to catch the game during the reception—then you surely can't ignore it at home.

So let's embrace March Madness and all it has to offer. You can use March Madness as an excuse to mingle with friends and customers or to waste a few hours with your spouse on the couch watching your team instead of doing chores. Here are ideas for planning a sports-themed party, using the ACC tournament in my hometown of Charlotte, N.C., as an example. We're in University of North Carolina and Tar Heel country, but you can apply these ideas to your school of choice.

How about an invitation that reads something like: "Meet Us at He's Not and Get a Blue Cup" or "We'll Watch the Tar Heels Beat Some Dook Butt!"

Being a Tar Heel, you would know that "He's Not" is a bar in Chapel Hill really called "He's Not Here." A blue cup is a Carolina blue plastic cup full of draft beer. "Dook" is what Tar Heels call Duke University. Change this around to suit your own school and rival. (We suggest inviting fans from only one school to this party unless you like conflict. This is serious business, people!) If you are brave, put some signs in the yard: "Friends don't let Friends go to Dook." More reserved? Save these little gems for some custom printed coasters. Use some of them at the party and then bundle the rest in groups, tie a Carolina blue ribbon around them and give them as gifts to your guests. You can upload your own images and graphics on www.absorbentprinting.com.

Recreate those carefree college days by setting up a bar on the patio with old picnic tables stocked with a keg and Carolina blue plastic cups to complete the nostalgia. Don't forget to have a TV out there. Heaven forbid anyone miss a single second of the game.

Food plays a big part in this party. Opportunities in recreating the college experience abound. In my town we'd go to the best fried chicken place, Price's Chicken Coup, and buy a ton of fried chicken. I'd stop at the local Middle East deli for some halloumi, a delicious cheese made from goat and sheep milk that we could fry ourselves. Of course, I'd add some southern chicken biscuits from Bojangles to serve late night… celebrating after we win or drowning our sorrows if we loose (gasp). All these items are nods to the Tar Heels' great haunts, Mama Dips, Time Out and Hectors.

The latest craze in keeping the party going is Bracketology—the game of predicting who's going to win. Picking the right brackets and filling them in is more than guess work. This makes for a lot of fun for your guests as completing the brackets keeps viewers' interest alive. You don't have to do a full bracket once the tournament is in motion. Depending on how far into the tournament you throw your party, start the bracket from there.

Whatever you decide to do around these games, remember it is about the basketball, but it's also about reliving those wonderful college memories. If you met your spouse after your college years, you may even learn something new about each other. Enjoy!

Angela Gala is principal with Rogers & Gala Creative Partners, a firm that plans parties, weddings, and special events nationwide. She can be reached through her website www.rogersandgala.com.


---
---
---
Leave a Comment