Things to Consider Before Becoming Co-Workers
There are many happy couples running a successful business and marriage. Here are a few things to consider before joining them.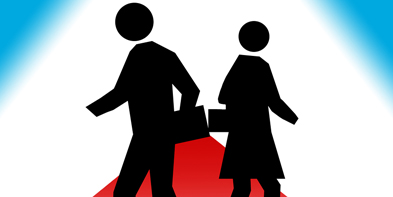 ---
Running a successful business is tough. Maintaining a successful marriage can also be tough. When you combine the two and run a business with your spouse, it can be even more challenging. Throw in a kid or two, add additional outside family members and you've got a situation that can be total nirvana or a complete mess.

Now let's be honest, there are many issues here we could discuss. There are the wonderful things that work, the things that definitely don't work and the things that can be done to make it work if it isn't.

First, remember that things that do work and are the reasons for wanting to become co-workers. You love each other, you respect each other, you have complimentary talents, you get along and you are both committed to this business being successful. This is a formula for success. Great!

The things that might not work should also be considered. In traditional modern marriages where both people work (but in different places), you see each other in the mornings, evenings and on weekends. It's nice because you get a break and then look forward to being together. In the experience of working together, there might be "too much" togetherness, if you catch my drift.

Who holds what position in the business? Is someone more the "boss" and someone more the employee? If so, it's not easy being managed by your spouse. Resentment can build up, arguments ensue, resistance rears it's head. It can be a nightmare. And, oh my gosh, what if you have very different ways of operating. What if one is much more organized and the other is much more loosey-goosey? Can you see the impact of all of your personality quirks being magnified in a working together arrangement?

Here are some things to consider before you put your marriage on the line and launch a new business together:



Are You Compatible?


First and foremost, before you go into business together, really, and I mean reeealllly, make sure that you're compatible to do so. How, you wonder, can you know that? You might consider taking a personality assessment where each of you can determine your true strengths and areas needing development. A great assessment tool to consider is called The Birkman Method (www.birkman.com). Couples can immediately know what makes their partner tick in the realm of work/career/business and the assessment can run a "Differences to Watch For" report that outlines how to build on each other's strengths and make it work.



Are You Coachable?


I would suggest you hire a business coach or a relationship coach to help you for the first few months (if it's a new business) or to come on board wherever you are in the cycle. With a coach, you have an outside mentor who is cheering for the relationship and for the success of the business. That coach can be objective—see things from the outside. He/she will be willing to flat out confront the issues that are getting in the way and will pull you up to your individual and partnership best. If you choose to get a coach, ask around for someone that your friends or peers might have worked with—get a word-of-mouth referral or research the many coach directories to find a fit.



What Do You Value?


How aligned are you on your values? Before you protest here and say, "Well, I wouldn't have married him/her if we weren't aligned on values," take a step back. I'm talking about your business and work ethics and values. What do you want from your business? Is it the same? Everyone wants to make money, but what's beyond that? Is one of you a driving capitalist that wants to make as much as possible and the other a bleeding heart that wants to create some financial freedom so you can then go out and save the world? Are you at odds? What are the drivers? (Your coach can help you figure that out, as can the assessment.)



What's Your Exit Plan?


Your love and the marriage (and children) are the most important things. That's how it all started. So, what if the business starts to really interfere? You must have a plan for how to exit the business if it's not in the best interest of the relationship. Talk to an attorney and set this up—in a civil way and have it in order way before you ever have to see a marriage therapist.

I hope this gives you a few things to consider as you consider starting a second relationship as co-workers. Happy working together!

Ann Fry, MSW, is a speaker and a coach. She's the one people go to when they want things to be different….and fulfilling. Check out all of her interests and talents at www.annfry.com.


---
---
---
Leave a Comment