The Supper Club
A dinner party is a great way to turn a dull month into something more. See how you can host a very creative dinner party.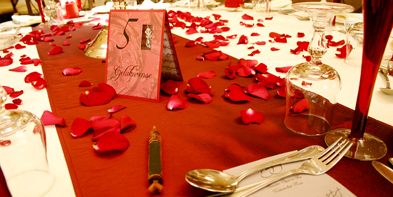 ---
Spring is a great time to reconnect with friends and neighbors. One festive way to do that is a dinner club—and there are so many ways to have fun with them.

Progressive Dinner
Let's begin with the progressive dinner. It starts at one house and ends at another. Everyone prepares one of their favorite dishes to share. That means all the hosts can entertain guests at home without going though the trouble of preparing the entire dinner (read: have more fun and do less work).

If you are lucky enough to live within walking distance of five of your best neighbor friends, you can have hors d'oeuvres at one house, soup at another and so on. You might even want to try a progressive dinner with a theme, from Middle Eastern to Italian to Caribbean. Part of the fun is trying something new—even if it fails, especially if it does, it makes for great memories. I love to experiment on my friends and most of the time they like it, too.

Supper Club
If you don't live that close, the supper club (as we say in the South) or the dinner club may be the answer. Each month one family hosts the dinner. With as many as 12 couples you only have to cook once a year but you get to see your friends once a month. Not only will these dinners help you stay in touch with friends, they can also be a good way to remember to have fun with your spouse—something that sometimes slips in our busy lives.

Getting Creative
If you are adventurous like my artist friend, you can really be bold with your dinner. Though my friend is not Japanese, she enjoys Japanese food and hosted a Japanese night when it was her turn. She served Japanese beer, sake, sushi and sashimi. Best of all were the suits she rented that turned two people into sumo wrestlers She cleaned out her garage, set out some mats, gave everyone a beer, passed out the sushi and later she revealed the sumo wrestling rink. The stories are still going and some have even gotten better. The pictures were pretty memorable, too.

To keep organized and on track, pick a specific day of each month for your club—like the second Tuesday or the first Friday. Poll your friends and see what generally works for them. Whenever your year begins, make a chart, e-mail it to your friends and let them fill in their desired date. Once you get started, they will usually keep these dates open unless other circumstances interrupt. You can make everyone responsible for finding someone to switch with if needed, always making sure the group knows, of course.

Most of all, don't forget to relax; parties are all about enjoying life.

Angela Gala is principal with Rogers & Gala Creative Partners, a firm that plans parties, weddings, and special events nationwide. She can be reached through her website www.rogersandgala.com.


---
---
---
Leave a Comment