Sexual Fantasies
Donít get mad if your spouse has sexual fantasies. It could be a new gateway to something special.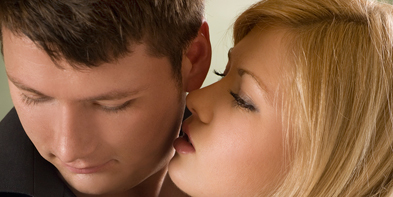 ---
Everybody has fantasies they donít share with others. They can be fantasies of striking it rich or fantasies of becoming so successful in your chosen career path that your colleagues fall into a hushed, respectful silence whenever you enter the room.

And then there are sex fantasies, which can be a grating source of tension in a marriage, and which are as often as deliberately hushed-up as opinions about in-laws or weight gain.

Sex fantasies can run from the banal to the exotic; from the fantastical to the simple and blunt. They can be embarrassing. They can be fantasies that involve your spouse or they can be fantasies that do not. Fantasies come and go inside an active imagination and they are not anything to feel guilty about or that you should be ashamed for entertaining. They are, after all, only fantasies.

For some, sharing sexual fantasies with your loved one may be a way to improve both your sex life and communication between the two of you in general. Great sex comes from great trust, and if you trust your partner enough to let him or her know your most intimate desires and fantasies then you will be able to surrender completely to the sexual moment, leading to more powerful orgasms and a stronger bond of intimacy.

Although you donít have to agree, it is also incredibly important not to get mad or close off when your partner trusts you enough to share their secrets. Anger in this instance can lead to a closure of the impulse to share and can build up walls between a couple that are hard to break down.

Cultural taboos, fear and shame can all add up to create silence regarding fantasies, which can choke off sexual desire and make a potentially outrageous sex life something stoic and unfulfilling for both parties. On the other hand, shared fantasies can lead to whole new erotic worlds: new positions, changes of scenery, role-playing, new techniques, sex toys, lubes, mousse, and even trying new vacation destinations.

Simply put, many people have wild sex fantasies, and if they are explored in an intimate, relaxed environment, they can be the gateway to a whole new world of sexual possibility. Not only will you learn new things about your lover, but you will find out what makes your own mind tick. If you can accept that fantasies are just fantasies, and that what comes out of the mind generally stays there, get ready to amp up your sex life and get to know a whole new side of the one you love.

Dr. Machelle Seibel is a Professor of Obstetrics and Gynecology at the University of Massachusetts, and former Editor in Chief of Sexuality, Reproduction and Menopause, a journal of the American Society for Reproductive Medicine.


---