A Spy's Wife
This week, we explore the life of a Canadian spy, Pharrell Williams and Will Ferrell as a racecar driver.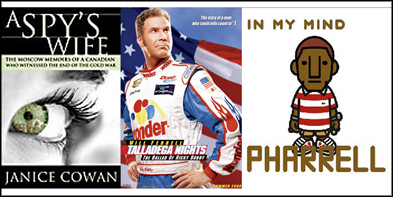 ---
READ
A Spy's Wife: Moscow Memoirs of a Canadian Who Witnessed the End of the Cold War
By Janice Cowan
www.formac.ca

Janice Cowan and her husband are just your typical married couple. They travel together, get trained by the Canadian government together, and work as spies in the former Soviet Union gathering intelligence together. In A Spy's Wife, Cowan tells the true story of her life as a Canadian military attaché witnessing the historical last days the Soviet Union, including the involvement of her and her hubby in the coup against Gorbachev in 1991, and the attempted coup against Yeltsin in 1993. It's a fascinating look at the end of the Cold War told by a person who not only lived it, but helped facilitate it.

WATCH
Talladega Nights, The Ballad of Ricky Bobby
Will Ferrell, Cal Naughton, Jr.
www.sonypictures.com/movies/talladeganights

Proving nothing's funnier than white trash on wheels, Will Ferrell topped the box office last weekend with Talladega Nights, The Ballad of Ricky Bobby. In the movie, Ricky Bobby (Farrell) shake-and-bakes his way to the top of the NASCAR circuit after a lifetime of wanting to go fast. After his wife leaves him for his best friend and an accident leaves him scared of speed, he finds his dead-beat dad again and realizes that being number-one comes with a price. This movie has everything you need for an entertaining night: fast cars, hot women, gay Frenchmen, and of course, Will Ferrell.

LISTEN
In My Mind
Pharrell Williams
www.pharrellwilliams.com

It's nearly impossible to turn on the radio these last few years without hearing the voice or beats of Pharrell Williams. As the other half of the powerhouse hit-makers "The Neptunes," Pharrell has lent his magic touch to just about every artist with a hit album this decade, from Snoop Dogg to Britney Spears. Pharrell finally breaks out on his own with his first solo attempt In My Mind, an R&B/hip-hop album true to his signature smooth, funky beats, soft vocals and star-studded collaborations. His all-too familiar mellow vibe makes some of the tracks a little sleepy, but In My Mind definitely has some hits like his latest release "Can I Have it Like That" with Gwen Stefani. So expect to hear some chart-topping singles because he is, after all, Pharrell Williams.


---
---
---
Leave a Comment