Tips to Recreate Your Bathroom
Great weekend tips to beautify your bathroom.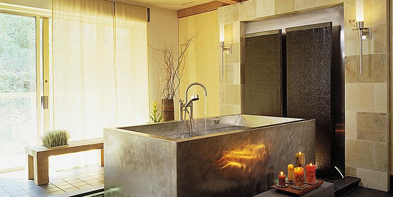 ---
Kitchens and bathroom are probably two of the most important rooms in your home, yet we often neglect these spaces because we've become so used to living in the same location for years on end or we just simply never gave it much thought. Sure, it can cost a lot of money to renovate a kitchen or bathroom, but the paybacks are big, especially if you intend on selling your home or upgrading for a sale down the road.

Rediscover the Pleasure of a Bath
You know the feeling you get when you walk into a room that really grabs your attention, right? Then why is it that most rooms in most homes don't create that "pleasurable" feeling? A great bathroom can provide years of comfort and yes, a place to unwind especially if you like to relax with a long soak in the bathtub after a hard day. Today, there are so many styles of bathroom fixtures, tiles, accessories, mirrors, storage, and cabinetry to choose from—there's really no excuse for not finding the perfect bathroom that suits the style of your home.

And just because it's the bathroom it should truly evoke a luxurious feeling and offer maximum use.

Pay Attention to Design Detail
If you're considering a bathroom remodel or building a new home, bring your own vision to life. Find inspiration in antique shops, bath and tile shops, magazines and more. Next, scope out all the design details and make a plan to recreate your space.

And finally, consider your style. Do you love color, stainless steel, dark woods, stone, lots of windows, framed mirrors, a big shower, or do you want to incorporate a few pieces of furniture such as a bench or chest to make your bathroom truly unique? By following these simple ideas, you or a professional designer can really create an original and inspired bathroom oasis.

Kathy Peterson is a celebrity design expert, national TV co-host on LifeTime TV's "The Balancing Act," author of 5 books including "Kathy Peterson's Great Outdoor Decorating Makeovers" and lifestyle columnist. Sign up for your free designer tips and idea newsletter at www.KathyPeterson.com.


---
---
---
Leave a Comment