Holiday Party Guide
Whether youíre a guest or host this holiday season, use these tips to show off your better side at holiday parties.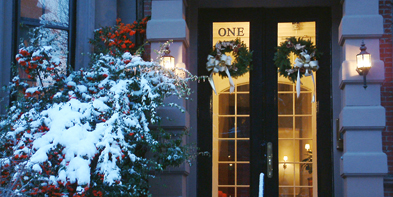 ---
Yes, itís time again for some holiday cheer, and knowing how to handle yourself at the annual office party or neighborhood dinner party is a holiday gift that you can give and receive with grace. Here are some ways to behave when youíre the host or a guest at a holiday gathering.

1. Donít wait until the last minute to RSVP (or overlook the request to RSVP altogether!). A late RSVP looks like you are "holding out" for the best offer. You have 48 hours to decide and then, make the call.

2. Donít fight with your spouse (in front of the children) on where they will spend Christmas Eve, Hanukkah or even Ground Hog Day. The only one that really loses is your child.

3. Donít show up to the party with uninvited guests. This includes your favorite pet!

4. Donít be the first to arrive or the last to leave. If you arrive too early you appear needy, and if your host must hand you your coat to get you out, you appear lonely and desperate for company.

5. Donít cancel unless you are dying and have a doctorís note. A late cancellation sends you directly to Protocol Prison. Your host has already accounted for you at the table and the place card has been set.

6. Watch your alcohol intake. The chandelier may have held the person before you, but why take the chance and ruin your new outfit?

Hosting an eloquent party? These tips will have your guests thinking they walked into the Four Seasons.

1. Make sure you greet each guest and make proper introductions to other guests.

2. Turn off the television. During a special dinner event or party, the moment is lost when a football game, game show or reality TV is blaring in the background.

3. Allow your guests to eat only what they are comfortable inhaling in a few bites. Do not continue to insist they have seconds and thirds and fourths. Urging them on becomes ad nauseum!

4. Leave the drumsticks on the counter or cut the meat away from the bone. It is very difficult to eat a 4 lb. drumstick, not to mention embarrassing in front of other guests they hardly know.

5. If using place cards, make sure the persons you are seating next to each other are not political opponents or going to get into a fight over something that happened a week ago at the soccer game.

6. Donít spend all of your time in the kitchen. Hire help so you can enjoy your party.

Diane Gottsman, a nationally recognized etiquette expert, is the owner of The Protocol School of Texas, a company specializing in etiquette training for corporations, universities and individuals, striving to polish their interpersonal skills. You can reach Diane at 877-490-1077 or www.protocolschooloftexas.com.


---
---
---
Leave a Comment