5 Tips for Being a Great Spouse During The Holidays
Use these tips and make this holiday one you can both stand.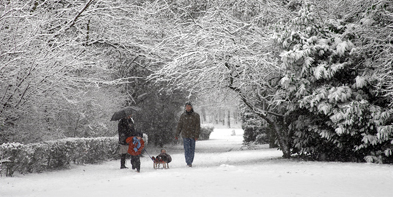 ---
Itís no surprise that the holiday season can be a stressful time of year. Not only do we have the usual responsibilitiesósuch as our jobs, childcare and household choresóbut we have to squeeze in time for all of that holiday cheer. Thatís right, Iím talking about stringing Christmas lights, decorating the tree, baking cookies, buying presents, writing Christmas cards and spending time with friends and family. Although most of these activities are meant to spread joy, we often find ourselves too busy and exhausted to enjoy them. Thatís why itís especially important this time of year to provide strength and support for each other.

Here are five ways for you to be a great spouse during the holidays.

1. Keep things simple. If you feel yourself starting to get overwhelmed with everything on your "To Do" list, think of ways to lighten your load. If you donít have the time or desire to bake 10 dozen cookies for your friends and neighbors, then donít. Buy pre-decorated cookies at the grocery store; if you package them right, people will think you spent hours making them yourself! If the thought of long lines at the post office makes you want to scream, buy gift cards instead. Youíll save money on shipping, too.

2. Ask for help. If you need help with something ask your spouse in a loving way, instead of letting your resentment build while you wait indefinitely for him or her to read your mind. Rather than demand that they drop everything to help you right then, let them help determine a convenient time. If they donít do something exactly the way you think it should be done, realize that doesnít mean this way is wrong. Let go of your perfectionist tendencies and make sure to say thank you, especially if you want them to help you with something in the future.

3. Say nice things. For example, "You look especially beautiful this time of year," "You sure look sexy when you string Christmas lights," "Thanks for all your hard work," "Iím sorry I snapped at you earlier," or "You are so good at making our home feel cozy for the holidays."

4. Unite as a couple. If your daughter is begging for something your husband thinks is too expensive, value his input, even if it means losing the Best Mom award. If your wife wants to celebrate Christmas at home, have the courage to make her needs a priority even if your parents pressure you to spend the holidays at their house.

5. Be supportive. I once heard a man say, "When your spouse is feeling down, then you must help him/her up." What wonderful, profound advice. If your wife is tired and irritable, fight the urge to throw a snowball at her and instead say, "Is there anything I can do to help?" or "Would you like a foot rub?" If your husband smashes his finger in the ladder while stringing Christmas lights, offer to kiss it instead of getting mad because he said naughty words. You can bring out the best or worse in your spouse, so make the most of every opportunity.

By going out of your way to be a great spouse, you can give your marriage the gift of love this holiday season.


Jenna D. Barry is the author of "A Wifeís Guide to In-laws: How to Gain Your Husbandís Loyalty Without Killing His Parents." www.WifeGuide.org.


---
---
---
Leave a Comment