Something Old and New for Your Holiday Entertainment
Meryl Streep, Philip Seymour Hoffman dazzle once again in "Doubt" and Feist offers an alternative to your regular holiday tunes.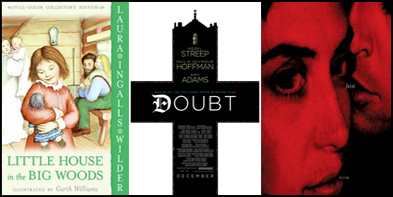 ---
READ
Little House in the Big Woods
By Laura Ingalls Wilder
www.harpercollins.com

This is a nostalgic pick for many women and even many men that read this classic chapter book when they were younger. I'm recommending it because—in case you don't remember or have not had the pleasure of ever reading this book—the descriptions of winter/Christmas-time cooking at the Ingalls' cabin can make people of all ages drool. The book, an autobiography of the author's young pioneer days in Wisconsin, goes into such delicious detail on the processes of making homemade maple syrup, snow candy, cured meats and cake that there is suspense alone in reading the next step. What a lot of men end up liking, in addition to the food details, are all of Pa's snowy hunting adventures, lessons on how he makes rifle bullets himself and how he makes his own sled.

But couples will also realize how well Ma and Pa worked together to create a happy and healthy home—even as pioneers in the middle of a Wisconsin winter. They worked hard, but they had fun.

WATCH
Doubt
Meryl Streep, Philip Seymour Hoffman, Amy Adams
http://doubt-themovie.com

Around the holidays you've got a lot of simple, predictable, happy-ended movies to choose from. This isn't one of them. As its title infers, there are no absolutes in the plot line of this play adaptation—only suspenseful uncertainties. Warning: The challenges this heavy drama makes you face when Sister Aloysius Beauvier (Meryl Streep) and Sister James (Amy Adams) start suspecting that Father Flynn (Philip Seymour Hoffman) is molesting a child may force you to think more than you'd like.

But who better than the actors lined up for this movie to make you think? Both Streep and Hoffman demonstrate why they are widely considered two of the best actors in the business—especially Hoffman. Though the sisters' guts tell them that Father Flynn is taking his relationship too far with one particular student, likable Hoffman does an excellent job of asking them if they are doing anything but making big assumptions.

By the way, a recent New York Times article recently accused current moviegoers of not being able to handle heavy dramas not guaranteeing happy endings in these hard economic times. Prove them wrong!

LISTEN
Let It Die
Feist
http://www.listentofeist.com

I have to be frank—there aren't a lot of new albums coming out right now that I'm impressed with. So I'm pointing you towards an old Feist album that came out before she got as famous as she is now: Let it Die. Most of its songs—which range from sexy and jazzy to perky and outdoorsy—carry a wintry theme that make pleasing seasonal alternatives to traditional holiday jingles.

"Mushaboom," the sound a shoe makes going into the snow, is a perky piece about mushing through "knee-deep snow" with "a man to stick it out/ And make a home from a rented house/ And we'll collect the moments one by one/ I guess that's how the future's done." Feist's delicate ballads about love fluctuating and changing with the seasons—"Gatekeeper" and "Now At Last"—reach at so many heart strings that even Snoop Dogg expressed great admiration for them. "One Evening" and "Leisure Suite" are seductively jazzy songs about the excitement of romantic spontaneity—good "getting in the mood" songs, if you will. And on these cold winter nights, you'll need everything you can get to warm things up!


---
---
---
Leave a Comment