A Bluegrass Band Singing "Gin and Juice"
If you've never heard of The Gourds, you'll soon find out what you've been missing.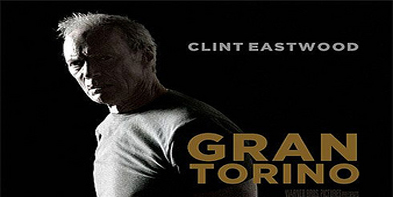 ---
WATCH
Gran Torino
Produced, directed and acted by Clint Eastwood
www.thegrantorino.com

This is a must see movie—especially if you're a Clint Eastwood fan in any way. It's as if everything Eastwood has worked on perfecting throughout his career—Dirty Harry-like characters prone to wild showdowns, film directing, producing and even soundtracking—culminates into this one film, which is rumored to be his last acting performance.

Walt Kowalski, who Eastwood plays like an aged and weaker Dirty Harry, is played with such embittered disgruntlement the movie seems more comedy than drama when it begins. But as his life becomes more entangled in the lives of the Hmong community around him—one full of Asians faces his veteran memory resents even seeing—the drama begins. When he meets teenaged Thao and Sue next door after a gang fight in their front yard, he learns they are constantly harassed and pressured by a local Hmong gang until they submit to the gang's initiation. Little by little, they melt his racism, heart and guilt as he becomes protective of them.

Just like any classic Eastwood movie, his character gets a climactic showdown scene. And just like any film directed and produced by Eastwood, the story structure, development of each character and acting of each is perfect.

READ
The Kosher Sutra: Eight Sacred Secrets for Reigniting Desire and Restoring Passion for Life
By Shmuley Boteach
www.shmuley.com

If boredom with sex or just a feeling that bedroom encounters just aren't meeting their full potential is an underlying problem in your marriage, this book helps you to take a step back, and for once, not completely blame yourself. Shmuley Boteach is an educated Rabbi with his own national radio show and he's not afraid to lay it out there for your benefit.

Boteach's book elaborates on how our culture's over-saturation of sex in advertisements, magazines, television and more can throw off any couple's sex life. His theory is that the overexposure dilutes the value of sexual intimacy between partners and ends up weighing their sex life down. Through eight steps—chapters covering innocence, novelty, the chase, forbidden-ness, opposites attracting, reckless abandon, unquenchable yearning and value beyond the body—the Rabbi makes a strong case for changing a couple's entire approach to sex for the better. There are a few more chapters on the history of these sexual principles, including a chapter on Kosher Tantric Sex!

LISTEN
Haymakers
The Gourds
www.thegourds.com

When they started 10 years ago, the lyrical weirdos of the Austin-based band The Gourds knew country had lost its way. I couldn't agree more, except in the case of this band. You don't find scruffy-bearded bluegrass lovers covering songs like Snoop Dogg's "Gin and Juice" every day. These self-described "Honky Tonk Badonkadonks" are just as funny as they have always been in their new album Haymakers.

"Country Gal" pays tribute to groupie nymphs the band must resist while they're out on the road. I mean, who says hairy middle-aged cowboys can't have tons of girls pining after them? At heart, these men love home and family more, as "Shreveport" shows. "In Tex-Mex Mile" they also pay tribute to what was Austin's golden age when they sing the lyrics "I was Rip Van Winkle, but thought I was Apollo Creed." And don't let that often backwoods hick-associated banjo fool you—their wit and allusions to movies like Dr. Strangelove likely surpass your own intellect. You'll be sorry to have just discovered this band after all this time!


---
---
---
Leave a Comment