Valentine's Day Dining Etiquette for Men
Etiquette is lost when most meals are consumed with a spork. Here are 20-plus dining boot camp tips for men.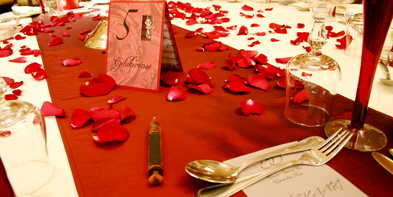 ---
Taking your wife out for a romantic Valentine's dinner is a good start to the perfect evening, unless you arrive to find no seating available and their is a two hour wait. For a special occasion always plan ahead, selecting the perfect restaurant and making reservations, requesting not to be seated by the kitchen or restroom. Always give the person taking your reservation—and the host at the door—your first and last name, especially on a busy night when there will be several Larry's and someone else may accidentally answer to your reservation.

If you are visiting a new unfamiliar restaurant, check the dress code so you may dress accordingly. Let your wife know as well, especially if the dinner is a surprise so your wife won't be under or over dressed for the occasion. By the way, select a restaurant you know your wife will enjoy, not one that you favor because it has a drive through window. "Coat and tie" is an indicator that you shouldn't put on your oldest pair of running shoes with your Valentine ensemble either. Remember, this is a night to reconnect and make a favorable impression on your wife.

Here are a few more tips that will show your wife you are more interested in her than you are the prime rib:

1. Always give your wife the best seat, the one facing outwards and towards the center of the restaurant.

2. Allow your wife to order foie gras, even though it makes your stomach turn and your wallet cringe. Do your best not to roll your eyes or comment on the outrageous price of the appetizers.

3. Pace yourself. Don't attempt to fill up on bread because you notice that other people's meal portions are ridiculously small. Tonight, you are not really there to eat as much as you are to honor your wife, make pleasant conversation with her, catch up on what is going on in her mind, listen to her without giving advice, show compassion for her new cause and impress her with your efforts, not to mention your new found dining skills!

4. Order from the menu and eat your own food. This is not the night to "share" an entrée or skip the potatoes and then eat all of her special potato gratin.

5. Write out, and practice, a special toast to your wife. It is a nice touch to honor your wife with a few, well-thought-out sentiments.

6. Familiarize yourself with some not-so-common menu terms. For example, Quiche Lorraine is not pronounced "Quickie" Lorraine. And Paillards, in French known as a bawdy story, is also a thin piece of chicken, veal, or beef that is seasoned and quickly cooked. Pate is pronounced Patay, rather than Patty and Julienne is not pronounced "Julianna," but rather Jewel ee yen.

7. Eat at a moderate pace. Follow your wife's lead and eat accordingly. If you find you are almost finished and she still has most of her food, that may be an indicator that you are concentrating more on your chicken marsala than what she has to say. Just try and remember that you are not at a hot dog eating contest and there are no prizes at the end of the meal for the first one finished.

8. Don't say to your wife, "I will let you finish what you want and then eat the rest." Keep your fork down and away from her plate until she is completely sated.

9. Don't slurp your soup, smack your lips, or chew with your mouth open. Nothing is more unromantic than a wife watching her own husband chomp and chew like her 3-year-old son, or worse, the new lab puppy out back.

10. Don't tuck your napkin into your belt or use it as a bib. If you have to get up, place your napkin on the seat of your chair. At the end of the meal, place your napkin to the left of your empty plate or the center of your empty place setting if your server has cleared the plates from the table.

11. Just for tonight, keep your tie down, rather than slung over your shoulder. Don't attempt to use it as an emergency hankie or a napkin, either.

12. During the meal and throughout the night, keep your eyes focused on your wife, even if someone else's wife or girlfriend passes the dining table wearing a flashy micro mini skirt.

13. Occasionally ask your wife if she needs anything. To get the attention of your waiter, you may try and get his/her attention by the gentle wave of your hand or by making eye contact and speaking a polite "Excuse me," rather than whistling at them or snapping your fingers in the air while shouting "Garcon."

14. If you are unfortunate enough to get food stuck in your teeth, don't pick it out with your fingers or your fork, all the while seated across from your wife at the table. Excuse yourself and go to the restroom to take care of your unsightly business.

15. Turn your cell phone off. Or at least put it on vibrate if you are worried that your babysitter may need to reach you. Tonight you should give your wife your undivided attention at the table and wait to check the sports scores until you get home.

16. Be by her side. Even if you are celebrating Valentine's Day by dining with others, make sure and sit next to your wife and say something like "I want to sit next to my Valentine tonight." You will earn triple brownie points with that comment.

17. Know which side your bread plate is on and where your water glass is placed. Your bread plate will be on your left side and your water glass will be on your right side. If you happen to drink from your wife's glass, you may not want to make a big deal of it but, if you are dining with a group and happen to drink from your neighbors, discreetly ask the server to bring another glass to the table.

18. Valentine's dinner is not an appropriate time to talk about the 2009 budget, credit card bills, Jimmy's bad report card or your taxes. Although important, lease those conversations for tomorrow morning, after you serve her breakfast in bed. (See my article on how to serve the perfect Breakfast in Bed).

19. Don't skip dessert. Even if you know your wife will only take one bite, plan for a special crème Brule or chocolate lava cake to be brought to the table after the meal, along with a rose, or a gift and a sweet card—handwritten by you of course.

20. Forgo the toothpick. At the conclusion of the meal when walking out of the restaurant, don't reach for that little pointy stick that is usually at the front of the hostess desk. There is nothing less appealing than a grown man with a tiny, sharp stick dangling out of his mouth.

Diane Gottsman, a nationally recognized etiquette expert, is the owner of The Protocol School of Texas, a company specializing in etiquette training for corporations, universities and individuals, striving to polish their interpersonal skills. You can reach Diane at 877-490-1077 or www.protocolschooloftexas.com.


---
---
---
Leave a Comment