Strawberry Sweetheart Parfait
Make this Valentine's Day even sweeter with an easy and wonderful dessert.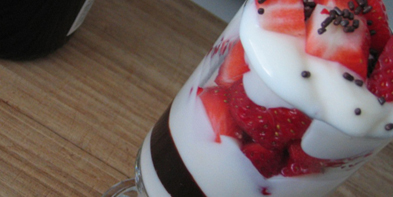 ---
A parfait is an old-fashioned layered dessert that looks pretty, and is fun to eat. With Valentine's Day around the corner, we thought you would enjoy a nice sweet treat to serve for dessert to your special loved one.

Ingredients:
3 Tbsp strawberries, diced (3-4 large strawberries)
1 Tbsp chocolate syrup
1/3 Cup vanilla yogurt
Whipped cream and sprinkles (optional)

Directions:
Using a parfait glass or tall, skinny glass, build the parfait by layering the ingredients in each glass in the following order:
2-3 Tbsp yogurt
1 Tbsp chocolate syrup
2-3 Tbsp yogurt
3 Tbsp strawberries
2-3 Tbsp yogurt

Chill. Just before serving, top with whipped cream and sprinkles. Grab your spoons and dig in! Happy Valentine's Day!

Cheryl Tallman and Joan Ahlers are sisters, the mothers of five children and founders of Fresh Baby (www.FreshBaby.com). They are the creators of the award-winning So Easy Baby Food Kit and Good Clean Fun Placemats, available at many fine specialty stores and national chains including Target and Whole Foods Markets.


---
---
---
Leave a Comment