Loud in Bed
Control the volume between the sheets with these tips for turning it up or toning it down.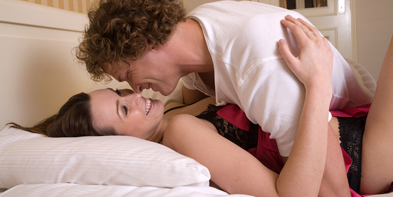 ---
When it comes to making love, everyone has their own way of expressing their level of enjoyment. Some prefer the gentle moans and heavy panting of a quiet sex romp while others prefer the loud dirty talk and window-shaking screams of a rip-roaring good time. There's no right or wrong way to be loud in bed, but there is a correct way to adjust the noise level if your partner is too loud or not loud enough. Dr. Sari Locker, author of The Complete Idiot's Guide to Amazing Sex (www.sarilocker.com), offers her tips for turning the volume up or down between the sheets.



Turn It Up

Having a silent partner can put a damper on sexual intimacy and arousal. After all, how do you know if your partner is enjoying the experience if he or she is quietly lying there? Whether it's through sexy moans or dirty talk, being vocal in bed lets the other person know the sex is good, which in turn boosts their confidence and arousal. It's a form of primal communication that improves intimacy and sexual satisfaction.

"Making natural sounds and honestly expressing yourself can improve your sexual experience by allowing you to fully be in the moment. Amazing sex is about expressing yourself and using all of your senses—including sound," says Dr. Locker.

Yet, she adds, expressing oneself in the bedroom seems to be a skill many couples lack. According to the Durex Sexual Wellbeing Global Survey, a third of couples want to have more fun and better communication with their partner.

"Perhaps vocalizing your interests during sex will lead to that. If you want your partner to be more vocal in bed, then during sex ask your partner questions such as, 'How does that feel?' to illicit the responses that should please you."



Tone It Down

For every person who thinks their partner is too quiet in the sack, there's another person who thinks their partner is too loud. Orgasmic screams and raucous dirty talk may turn some people on, but for others it can be distracting or even embarrassing.

"If it makes you or your partner uncomfortable, then you should talk about it. Stifling your sounds may hinder your experience, but if being loud upsets your partner's experience then one or both of you will need to compromise," says Dr. Locker. "Loud lovers can learn to tone down their sound effects by whispering something erotic rather than shouting it, or by using milder phrases like 'that feels so good' rather than a shrill shriek. Or, if you want to make noise despite your partner's desire for you to tone it down, then consider adding some background music so your utterances aren't as noticeable."

Whatever your noise preference is, communication between the sheets is just as important as communication outside the bedroom. If you or your partner is feeling turned off by the volume in the bedroom—whether it's too loud or not loud enough—you can both be satisfied by talking about it openly and reaching a compromise.


---