Welcome Home
All the fun and fantasy of a date can be had right in your own home, DIY style.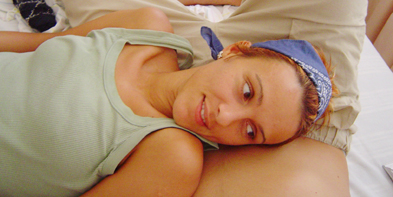 ---
Great dates don't always require an elaborate plan or remote destinations. Some nights you're already at the hottest spot in town, your very own place. The best part is that the guest list is extremely exclusive—just one pair of VIPs is all it will take to rock this house party. This is a chance to get as creative as you want to, and tailor your night to your tastes.

Set The Mood
First, set the scene. If you want to romance, think dim and/or colored lights, candles or flowers. Themes can make designing your interiors a creative task, like a disco ball for your own "club night." Party supply stores are stocked with relatively inexpensive décor for just about any theme there is. Don't forget the music. Some couples get jiggy with jazz, but The Game might be just what gets you and your mate moving. Create a mix that includes both of your favorite tunes and bring no shame to your living room, er, dancefloor. If you're not in the mood to prove whether or not you think you can dance, there's always karaoke. And to keep this mood going, turn off the ringer on cell phones, landlines and stay away from the computer, okay? You might be home, but you're still on a date, so act like it and tune into the most important part—your partner.

Play With Your Food
We all know about breakfast in bed, but what about dinner or dessert? If you want to go easy and get your favorite take out, go for it. But if you're thinking of making something yourself, consider things that are delectable and easy to eat like finger sandwiches, because remember, you are in bed. It just so happens that many aphrodisiacs are bed-friendly fare, like oysters and chocolate. A fruit platter is one option that offers variety and instant gratitude. Strawberries dipped in chocolate make for a special treat or consider exotic fruits that you don't eat often, and then drink it down with some bubbly.

The wine, cheese and cracker route is a fun one too. If you want to hit the hard alcohol, opt for top shelf, it's still cheaper than if you were at a bar and your body shots are sure to be priceless in every way. Make sure neither of you go too far in imbibing the liquid candy, your goal is to start and end the action in bed, not end up worshiping the porcelain god.

If your sweet tooth craves more, have an All-American ice cream social. Set out all the makings of a sundae—especially whip cream and chocolate syrup, but keep some napkins, water or handy wipes nearby for sticky situations. You don't have to have 31 flavors, but it might be fun to have several choices. The point is to do a little something out of the ordinary and feel a newfound sense of excitement in the home.

It's Showtime
With the proliferation of home theaters, creating your own personal night at the movies is a snap. If classics like Casablanca or Breakfast at Tiffany's aren't your speed, the American Film Institute (www.afi.com) has several lists of great films, like their "100 Greatest Love Stories," "100 Greatest American Movies," and several other areas of interest. The neat thing with these lists is you can go back to them each time you want to do a movie night at home. If you're feeling nostalgic, you can always watch the first movie you saw together. If you're looking for something steamier, there's plenty of films that fit the bill, 9 ½ Weeks being a standout. And if you do opt to get a little more adult, be sure that it's something you're both comfortable with and will inspire rather than rule your evening together.

Play Games
Games are wonderful tools to bring couples closer through a little competition and laughs. There's only two players, so some games are out, but there's still some great one's like Monopoly, Trivial Pursuit or Battleship. About.com has reviews of additional two player board games you can check out. Pagat.com has an exhaustive list of card games and their rules, with plenty to cater to two players. You can also up the ante and get into a heated game of strip poker, there's no pot much sweeter than that one. You can go more tech with video games. A friendly wager can add exhilaration, especially when the payout includes special favors or even comical dares. Remember, have a good attitude and don't be a sore loser.

If you've already had a hot date in your own abode, then you should have a confident, knowing smile right now. It's important that in creating your date at home, you make choices you and your honey will enjoy, but also dare to be adventurous. This night is only about the two of you. Do it right and you'll both feel like whoever coined "Home sweet home," probably had some great home dates too.


---