Buying Your First Home
It's definitely a tough economy, but it could play to your advantage in purchasing your first house.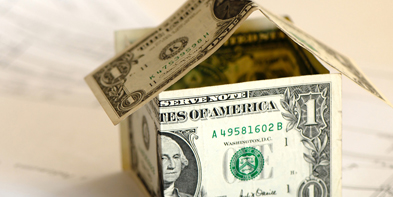 ---
For a young married couple looking to branch out during this credit crunch, some things couples take for granted during prosperous times may seem harder to attain—including the purchase of a home. These days, many couples are considering putting this dream on hold until the housing market becomes less volatile. The truth is, though, that interest rates are at near historic lows and home prices are dropping, and now is an ideal time to seriously consider purchasing a first home.

Owning your home can be a critical step toward building a sound financial structure for your new life together. Why keep paying rent when you can—hopefully—build equity? There are also important tax advantages linked with buying a home, including the ability to write off mortgage interest and property tax expenses. Plus, there's now the incentive of the First Time Homebuyers Credit from the federal government.

Better still, right now is a buyer's market. Although it's hard to predict whether home prices have bottomed out, today's market conditions offer buyers a huge advantage, especially if you don't have something to sell.

If these arguments have convinced you to look into the joy of ownership, then the first question to ask is, "How much can I afford?" To answer, you'll need to determine two things: how much of a down payment you can come up with, and how much money a lender will be willing to give you.

If you're newlyweds, you and your spouse will have one advantage that other first-time buyers don't have—money received from the wedding reception. While it may be tempting to spend that money on pleasant distractions, such as a new TV or vacation, this gift money also makes for a nice down payment. Or, it could be used to pay down existing debt, which can improve the likelihood of securing financing from a reputable lender—a big consideration during credit crunch times.

What's enough for a down payment? The more you can afford to put down, the better, and the more attractive your monthly mortgage payments will be. Down payments generally range from 5-25 percent of the purchase price. The amount you'll be required to put down will depend on several factors, including the selling price, and the age and condition of the house in question. It will also include things such as your credit rating scores and the requirements of specific lenders, which can vary.

Once you've figured out how much of a down payment you can afford, the next step is to figure out how much you'll need to borrow—or, more appropriately, how much you can afford to borrow. Even before speaking to a financial institution, there are ways to help you figure out what your ideal monthly mortgage payment should be.

Take a good, honest look at how much money you're taking in as a couple, as well as what the expenses will be with the purchase of a house. That will show you how much of a mortgage you can comfortably afford. In general, 28 percent is the maximum percentage of the combined monthly income that should go into a mortgage.

To make things easier, many financial institutions offer online calculators that can help you figure out what you'll be paying on a monthly basis. Finally, the fun part—actually finding the dream house that's out there for you! This is where all your homework comes in handy because you've now set your expectations. There's nothing stopping you from making that dream house a reality, even in challenging economic times.

Tim Kirchner is Vice President of MetLife Home Loans. Kirchner has more than 25 years experience in the home mortgage industry. The free online calculators from MetLife Home Loans can be found at www.metlifehomeloans.com.


---
---
---
Leave a Comment