The 10 Commandments of Marriage: 9. Develop Mutual Interests
With one commandment to go, the Ninth Commandment states that all relationships must find shared interests in order to survive.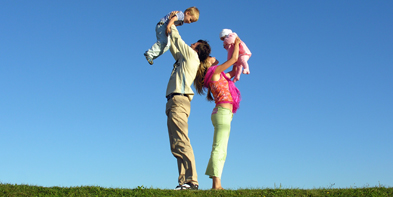 ---
Marriage is for life. And life is a pretty long time to live with someone with whom you have no common interest. A couple is usually drawn together by attraction, physical or otherwise, and for the first few months or years that may be enough. Eventually, however, you'll need to embrace your common interests.

An article in my local paper recently talked about a couple who had been together for 70 years. Their mutual interest was dancing. In order to maintain a relationship, there must be mutual interest as well as the initial attraction. As each of you develop your separate careers, whether it is a job outside of the home or inside as a stay-at-home parent, your routine diverges, giving you each a different daily path. One of you may have a daily grind of changing diapers and caring for the home or running errands; the other may be on the job with co-workers with whom he or she talks all day. Often, unless you work at it, the out-of-the-house party or the person gainfully employed outside the home, has more in common with his or her co-workers than he or she has with the spouse.

How then can you develop common interests of the family? Often times, both parties are actively involved with their children—coaching teams, sharing the driving to activities or helping with homework, for example. Sometimes a family is very involved in religious organizations, such as participating in church choirs or teaching Sunday school. If there are no such mutual activities, however, what can you each share besides a bed?

To maintain a long-term relationship, it is important to develop mutual interests that both parties can enjoy. Remember too that kids won't always be there to bind these common interests so find some for just the two of you. Sports activities, such as skiing, tennis or golf, antiquing, concerts, bowling, watching sporting events or even volunteering in a political organization are some examples of interests that can be developed and shared. By finding these activities that both parties enjoy, not only do you have common goals, but you have things to talk about. You have an opportunity to share time with each other, which is extremely important in maintaining the relationship.

It is said that the average American couple spends about 20 minutes per day of quality time together. Compared with the eight or more hours the parties may spend with colleagues at work, the couple is almost strangers in comparison without one or more common interest. This, of course, does not mean that each party cannot have his/her own separate hobbies or interests. It just means that the way to keep a couple together long-term is to find things to share with each other.

Commandment 8. Resolve Arguments One Issue at a Time
Commandment 7. Praise Your Spouse
Commandment 6. Leave The Baggage At The Door
Commandment 5. Don't Expect Your Spouse To Be a Mind Reader
Commandment 4. Argue Constructively
Commandment 3. Make Dates With Your Spouse
Commandment 2. Communicate With Your Spouse
Commandment 1. Prioritize Your Partner Over Everything

Lynne Z. Gold-Bikin heads the family law practice at Weber Gallagher Simpson Stapleton Fires & Newby, LLP. See release at http://www.wglaw.com/news/newpartners/299/.


---
---
---
Leave a Comment