Long-Distance Sex
Just because you're apart, doesn't mean you can't enjoy a steamy connection with these hot tips for phone and e-mail sex.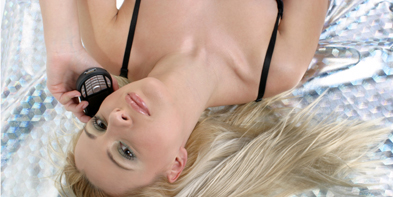 ---
It doesn't matter how good you are at pleasing yourself, when you're aching for a little bump and grind and your spouse is away, it sucks. Sometimes no amount of internet porn or vibrating playthings are going to cut it—bottom line is that you need to connect with your partner.

When your spouse is away it's important to maintain not only an emotional and intellectual connection, but a sexual one too. It will also keep you at the forefront of each other's minds and away from temptation. All it takes is a little imagination and a naughty phone call or racy e-mail to keep the home fires burning.

"I used to think phone sex was a little hokey; it looks sexy in the movies, but I could never get myself to take it seriously," says Anne*, 27. Recently, Anne's husband Lee has been frequently out-of-town on business. "It's been so hard, especially when you go more than a week without sex," says Anne. "One night we were sort of playfully talking on the phone and I don't know what it was, but I started talking a little dirty. He started talking a little dirty and the next thing you know we're coaching each other through an orgasm."

Anne admits she has no problem talking dirty in the bedroom, but totally clams up at the thought of phone sex. All it took was a late-night phone flirt for her to see how easy it really is. Anne's cross-Atlantic orgasm was a totally unexpected treat, but sometimes a little planning does the trick, too.

"If you're uncomfortable speaking sexually on the fly, there's nothing wrong with doing a little advanced preparation," says author and relationship expert April Masini (www.askapril.com). "Writing down what you want to say to your partner really can help you get the words out much more naturally. Some places to start: your favorite fantasy or recalling a particularly steamy sexual encounter the two of you had."

In her book, The Next 50 Dates, Masini details how to plan a perfect phone date. For women, Masini suggests hiding a sexy photo of yourself in his bag, then calling to have him check for something you 'accidentally' left in his suitcase. "Because men are such visual creatures, you'll want him to be looking at a hot picture of you when the two of you are 'talking'," she says. An added treat is wearing whatever you're wearing in the picture so that he can give you explicit instructions on how he wants you to undress.

If it's your woman who's left town, Masini advises men, "leave her a surprise, like a box of chocolates and a gift of a vibrating variety in her bag. It won't replace you, but it'll help."

If you're still a little shy about whispering naughty nothings into your phone receiver, try sending a racy e-mail or IM. It's a safe and easy alternative, but can be even more effective than a phone call.

"Nothing says 'I want you' better than a suggestive e-mail," says Rob Frankel, founder and owner of HoochyMail.com. HoochyMail is a free online service that allows couples to instantly compose and e-mail each other sexual fantasies that are customized with their own details. All you need to do is choose from 30 different x-rated stories, add your own personalized details and hit "send".

According to Frankel, his service is especially popular with servicemen and women serving in Iraq. "We get thank-you e-mails all the time from people who say our service kept their relationship alive, despite the long distance."

Even if you're not spending extended periods away from one another, shooting a naughty e-mail to your spouse's personal e-mail while he or she is at work is a great way to keep them thinking about you. After all, nothing says 'I love you' like reading, "I want your cock" in your inbox.

*EDITOR'S NOTE: Last names have been omitted by request of subjects for anonymity.


---