The Dog Whisperer
A man who talks to dogs, the mystery of a Hollywood murder and a legend keeps rollin'.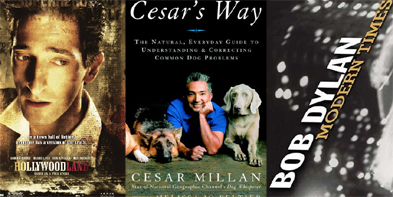 ---
READ
Cesar's Way: The Natural, Everyday Guide to Understanding and Correcting Common Dog Problems
By Cesar Millan
www.randomhouse.com/crown

Every couple who owns a dog knows what an impact a pet can have on a relationship; an unruly dog can strain a marriage just as bad as a problematic child. Cesar Millan, who's affectionately known as "The Dog Whisperer" for his uncanny ability to communicate with dogs, shares his secrets for understanding your beloved pet in the bestselling book Cesar's Way. Unlike most dog trainers, Millan focuses on the pet owners as the root of the problems; as he often says, "I rehabilitate dogs. I train people." His "leader of the pack" dog psychology is so right on, you may even find yourself applying it to your human relationships.

WATCH
Hollywoodland
Adrien Brody, Ben Affleck, Diane Lane www.hollywoodlandmovie.com

This sleepy mystery is based on the true story of the death of George Reeves (Affleck), the original actor who played Superman on the hit '50s TV show. Reeves died of a single gunshot wound to the head while his fiancé and friends gathered downstairs for a party, but after the LAPD closed the case as a suicide, Reeves' mother hires a private detective Louis Simo (Brody) to investigate the death. Simo uncovers the many possible conspiracy theories surrounding the famous Hollywood murder, including the suspicious fiancé and a secret affair with the wife of a calculating MGM studio executive.

LISTEN
Modern Times
Bob Dylan
www.bobdylan.com

If Bob Dylan had his way, he'd probably be making music on his deathbed—and that's fine by us. With Modern Times, Dylan delivers yet another collection of timeless music, helping seal his fate as one of the most influential artists of our time. This is his first new album in five years, yet this 65-year-old icon is still cranking out music good enough to have his album debut at number one on the Billboard Top 200 Albums chart. Add that to Rolling Stone's respected 5-star approval, and you'd be a fool not to give this album a listen.


---
---
---
Leave a Comment