How To Choose The Right Mortgage
Making your way through the mortgage maze isn't as difficult as it may seem.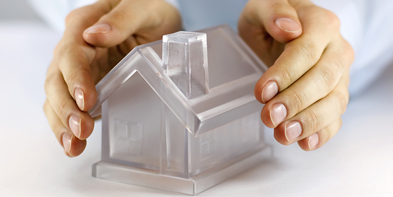 ---
"
If you do not understand specific fees or costs don't make a commitment, instead insist on an explanation."
You've figured out how much you can afford for a down payment, you've crunched the numbers to see how much you can pay each month, you've worked with a qualified real estate agent to find the perfect house in the perfect location. Now what?

For couples on the path to home ownership, there's still one more critical obstacle to cross—securing mortgage financing. In these "credit crunch" times, this may seem at first glance to be a bigger challenge than getting Celine Dion to sing at your anniversary party. Contrary to what you may have heard, however, rates are at near-historically low levels and there are good deals on properties to be found practically everywhere. In fact, it's actually a buyer's market, and this may be a good time to buy.

Still, how does a first-time homebuyer navigate their way around the confusing maze of mortgage products that are out there? When choosing a mortgage lender, it can truly pay to shop around. Interest rates vary from lender to lender, so before making any decision carefully compare the terms of the mortgage as well as the closing costs for the loans that you qualify for. Not all loans, unfortunately, are created equal.

To begin, it's important to completely understand the variety of mortgage loans that are available to you.



Financing Options




Fixed rate:

When you're buying a home you plan to keep for a while, your first consideration is probably going to be a traditional fixed-rate mortgage, with competitive rates on 15- 20- or 30-year terms. This type of loan keeps your payment safe from market fluctuations. A fixed-rate mortgage guarantees that the interest rate and, consequently, your mortgage payments will stay the same over the life of the loan.



Adjustable rate (ARM):

If you'd like to increase your buying power or lower initial monthly payments, an adjustable rate mortgage (ARM) may be right for you. Choose from 3-, 5-, 7- or 10-year terms with affordable monthly payments. Variable-rate mortgages usually start out at a lower interest rate, which may rise at specified intervals (e.g., one year). Therefore, variable rate mortgages may result in higher rates—and payments—later in the life of the loan.



FHA loans:

First time home buyers, borrowers who have less-than-perfect credit and little money to put down should consider whether a Federal Housing Administration (FHA) loan makes sense. FHA allows borrowers with less than perfect credit to still receive a favorable interest rate. The only stipulation is that you may only have one FHA loan at a time.



VA loans:

Veterans and service personnel are eligible for special loans that often require no down payment and lower interest rates than ordinarily available. For additional information, visit www.valoans.com.

In addition to comparing interest rates, be sure to consider closing costs, which can be a significant expense, sometimes running into thousands of dollars. Closing costs are all of the expenses associated with closing the deal. Closing costs include items such as loan application and origination fees, attorney's fees, mortgage insurance premiums, transfer taxes, prepaid interest, survey, deed preparation and recording, etc. Some closing costs (e.g., loan application fees) may be negotiable, while others (e.g., prepaid taxes) are not.



Resources Available


To make the wisest financing decision possible, it pays to use rate-comparison sites such as bankrate.com. Also, before you talk to a home loans specialist, brush up on the various terms that are used in the mortgage process—this will help you to ask the right questions about the specific mortgage that's being offered. The U.S. Department of Housing and Urban Development has a handy guide to mortgage terms that's available online (click here).

Once you've settled on the financing option that fits your needs, there are still a few more steps. First off, make sure you understand all of the figures on the settlement estimate and on the final settlement statement at closing. Under the Real Estate Settlement Procedures Act (RESPA), which was enacted to protect consumers when they buy houses, lenders are required to provide estimates so consumers can compare loans and services. It mandates that lenders make certain disclosures, such as the typical costs to be expected, as well as their affiliations. When applying for a loan, the lender must submit a Good Faith Estimate of loan-related expenses that are required at closing, within three days of your application.

If you do not understand specific fees or costs don't make a commitment, instead insist on an explanation. Also, keep in mind that while real estate agents can help sort through and understand the paperwork involved in buying a house, they are not lawyers or tax experts. To fully understand the tax consequences of a home purchase, or to understand the legalities involved in the purchase, you may want to consult a real estate attorney and/or tax professional. A trusted and reputable mortgage lender can help, too. Any good loan officer should be able to walk you through the settlement statement and clearly explain such things as closing costs, which can ultimately save you a lot of time and worry.

Although it may seem like a bit of work to navigate your way through the mortgage maze, the end result is truly worth it. By investing some time and effort into knowing your facts and securing the best deal out there, you can find a dream house that can serve as a solid foundation for your life together.

Tim Kirchner is Vice President of MetLife Home Loans. Kirchner has more than 25 years experience in the home mortgage industry. For additional information on selecting the perfect dream house, visit www.lifeadvice.com and choose "Life Transitions."


---
---
---
Leave a Comment