Baby Talk
With babies arriving left and right, the pressure for Sara and David to deliver intensifies.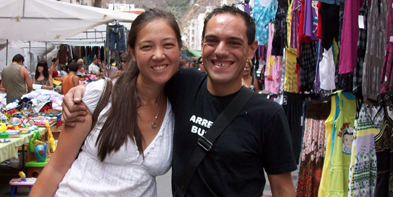 ---
Having Luisa, my mother-in-law, here from Paris is a real treat, but did she really have to arrive at the exact same time as all the babies did? Luisa arrived on the 1st, my brother and wife Johanna welcomed their first child on the 4th, and David's brother's best friend became a father on the 5th. Meanwhile, David's brother is expecting his first in October. The chatter and excitement surrounding babies has been abundant, and Luisa has been here to hear it all.

It wouldn't be so bad except that talk of babies has been a topic of conversation between Luisa and me for a while now. Over the last year, it has officially moved from the friendly small talk category that can be brushed off with a simple joke to a more intense debate not so easily satisfied by friendly banter. I still remember all too well the turning point when the tone changed and the pressure increased a notch. It took place last January on an appropriately cold, blistery evening in New York City. Cornering me in a small cafe while David was working, she talked to me about the importance of not waiting too long to start a family, as I may no longer be physically capable. "What was the rush?" I thought. "I'm only 30." Meanwhile, she, who gave birth to David at 21, couldn't understand what I was waiting for. In desperation, she pulled out her wild card: She would start to quit smoking the day I announced I was pregnant.

Well, I'm not pregnant and Luisa still smokes. But while I know that it's difficult for her to congratulate my parents on becoming grandparents when she can only dream of bearing that same title, and, while I'm well aware that when she's staring longingly at baby clothes in store windows she has only one thing on her mind, I have to give her credit for keeping her desire in check. Considering that David is her only son and therefore her only hope, she could be much worse.

Instead, she distracts herself by buying lottery tickets from the women and men roaming the streets with reams of tickets in hand. She buys her tickets, hoping for that winning one, while I think of how she, as a young adult, used to be on the other end of the transaction, selling the very tickets that she was now buying.

Spaniards are believers and love to have hope, she explains to me. The lottery at Christmas is the biggest of the year, and she buys a ticket during her annual holidays in Spain. She bought a ticket for David and included it in a package that she sent for his birthday last October. The ticket ended up being a winning one for about 200 euros. Unfortunately, the package never made it to us and was returned to her in Paris months later, too late to be redeemed for money.

Luisa's hope endures. She continues to buy lottery tickets, she continues to play Bingo (she's there now), and she continues to hope for the day that she can start knitting booties and hats for her grandchild. That time will come, but in the meantime, I just wish that all the baby news didn't have to happen at the exact same time as Luisa's visit.

Sara Wilson is currently working as a freelance writer and lives in Torrevieja, Spain with her husband. She has kept a record of her adventures living abroad which you can find here or on her blog: http://sarawilson.wordpress.com. Contact her directly at wilson.sara@gmail.com.


---
---
---
Leave a Comment