The Last Supper
While the end of summer is simply the changing season, other endings are more permanent.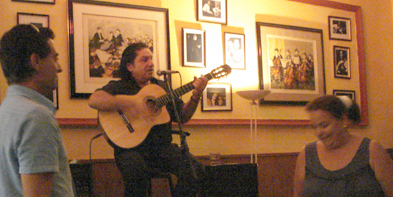 ---
In New York City, Labor Day weekend symbolizes the end of summer. Itís when the cityís socialites shutter up their grand estates in the Hamptons and board their helicopters to return to the city. When my husband David was still working as a private chef, it signified the return to a somewhat normal life for us when David would no longer have to live away several days a week and no longer have to prepare for the big summer bashes.

In Torrevieja, Spain, the end of Summer comes a bit sooner. On August 31st, tourists board planes, seaside apartments are vacated, the highly coveted parking spaces of July and August are available once more, and stores and restaurants hunker down, anxious to see what kind of business September will bring. Even the weather changes. The clouds roll in, a soft breeze blows in the morning, and the sun sets around 8:30 p.m. instead of 10:00 p.m.

Weíve heard about winter in Torrevieja and, ever since September started, have been dreading what the coming months will bring. The promenade that has been busy all summer long will empty out. Many businesses will be open only on the weekends and many more will shut down until spring. And many predict that the housing crisis will only worsen as people who were fighting desperately canít hold on any longer, especially following a somewhat mediocre summer of tourism. The auctions will buzz with activity as banks try to unload their burden of bad debt and those with cash in the present moment can secure their fortunes for the future.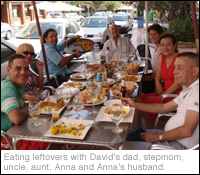 As for us, the end of summer was most marked by the fact that on August 31st, Al Cante ("The Song"), Davidís dadís restaurant, also put up its shuttersÖfor good. Although David pulled out of the business in early July, it remained our favorite hangout. David found that he couldnít do business with his dad, but that didnít mean that we couldnít enjoy spending time at his dadís business. As friends from France (where David grew up)ómany of whom knew Davidís dad from when he used to perform in restaurants in Parisóarrived for their summer vacation, Al Cante became packed with people and I was finally able to speak and be understood (the wrong language, albeit, but at least it was a language). Kisses left and right as soon as we entered, greetings to everyone and suddenly it was no longer like we were in a new country but in a familiar place surrounded by friends and family.

Al Cante got business, but it turned out it was not enough to sustain itself. People would come to spend the evening thereóand boy would they! Five, six hours but would only consume a couple of drinks each. So, although it was a packed house, it was a non-profitable packed house. The food didnít move from the freezer, the cook was bored and Davidís dad was stressed. And we wished that Davidís dad could see value in Davidís talent as a chef and appreciate what he could bring to the business. But he didnít and preferred to blame the restaurantís failure solely on the location.

So as New Yorkers prepared to return to the city yesterday, David and I were invited to feast on the food from Al Canteís freezer. Ramon had given Anna, a friend who runs a small bar in town, the leftover frozen food and, in return, Anna had cooked up a grand meal. It was a nice afternoon, filled with carefree laughter.

But pass by Al Cante these days, and itís sadly quiet. The voice of David's father, Ramon, no longer booms out as he strums his guitar from the stool on his highly prized stage. Friends from another country and another period of his life will no longer come to clap the Palmas and dance the Sevillanas and sing along to traditional flamenco songs that transport them back in time. The vacation days are over, summer has come to an end.

Sara Wilson is currently working as a freelance writer and lives in Torrevieja, Spain with her husband. She has kept a record of her adventures living abroad which you can find here or on her blog: http://sarawilson.wordpress.com. Contact her directly at wilson.sara@gmail.com.


---
---
---
Leave a Comment