Tales from the Grave
Sara and mother-in-law get a grave scare and find reassurance that her and David are needed here in Spain.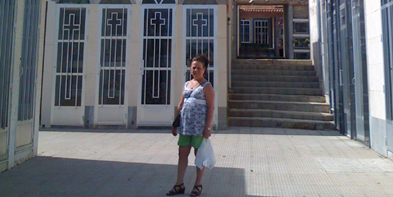 ---
There's nothing more horrifying than going to a cemetery to visit a specific tombstone only to find that you can not find the tombstone you came to visit! That's what happened when Luisa, my mother-in-law, wanted to pay her respects to her father who was buried in the cemetery of Callosa de Segura, the village where she grew up.

It had been three years since she had been and it was one of the highlights of her visit to her village. We had even trekked long and far during the hottest time of day to make our way to this small cemetery hugging the bottom of the mountain. So when we arrived and Luisa couldn't find the tombstone, I couldn't believe my ears. And when she was sure that it had been where there are now just vacant, broken tombs I thought she must be hallucinating from the heat. Was she absolutely positive that this is where it was? Yes, she was sure. She had been here countless times. How could she forget the location of her own father's grave?

Not quite sure what to do in such a situation, we started searching along the entire row. But even under careful scrutiny, we couldn't find it. Perhaps, the body really had been excavated. Perhaps this tomb wasn't for life, but instead for a certain amount of time, a period that had expired since Luisa's last visit. But that was impossible. It had been paid for by her father's boss so that he could rest in peace for, well, forever.

By this time, Luisa was red, but not from the heat. She was fuming and wanted to get to the bottom of things, but there was no one to ask. The cemetery was empty. We sat down to think. And just when we were about to give up in despair, we saw two men walking the grounds. One of them was the guardian of the cemetery. If any body had been excavated, he would know because he would have been the one to do it. But when Luisa showed him the empty, crumbling site where she believed her father had been he was confused. That hadn't been touched in a long, long time.

There was confusion and mystery until the guardian's friend looked once more and, lo and behold, found the very thing for which we had been searching. Luisa's father's grave site was fully intact, right where it had been for decades, but it had been rendered unidentifiable by the bouquets of flowers that had been placed in front. It must have been David's aunt who had come to pay her respects. Little could she have imagined the fright that her little act of kindness would cause. And in amongst the flowers was a folded piece of paper that looked as ancient as time. It was to update the contact information on file and renew the title for the grave. Little could we have imagined that paying our respects would give us administrative work to take care of.

We left, relieved to know that peace had been restored, however, I silently wondered what the next visit would bring—this wasn't the first time Luisa has had a scare in the cemetery. The first time happened three years earlier when she had chosen to go on the very day that the village was celebrating a holiday (coincidentally, we had gone on the same exact holiday). Eager to visit her father's grave, Luisa had rushed through the entrance and past the gate, totally bypassing the important notice announcing the shortened holiday hours. And she wasn't aware when the gates shut closed—with her on the inside. Once she realized, she wasn't for the life of her going to be left there. Determined to make anyone—everyone, if possible—aware of her catastrophic situation, she yelled and yelled. But the combination of the cemetery being set back quite a bit from the street and it being a holiday, leaving the people busy with festivities and the streets empty, didn't play well in her favor. She contemplated climbing up and over the gate, but it was too high and the pointy spears at the top didn't make entrance or exit an easy feat. After an hour, someone who lived across the street and down the ways a bit finally heard her cries and came to help.

Scared out of her wits, Luisa vowed that day to not return again alone. And even though she had returned to Spain for vacation every year since, it had been three years since she had returned to the cemetery. And that's why it was so important that my husband, David, and I accompanied her on that very hot day.

We took care of the paper as old as time last week. Luisa's happy with her visit and the secured title showing ownership of the grave. As for us, it's little things like this that we find behind flourishing bouquets in old tombstones that reassure us that we're needed here in Spain. There are probably signs everywhere…we just need to find them.

Sara Wilson is currently working as a freelance writer and lives in Torrevieja, Spain with her husband. She has kept a record of her adventures living abroad which you can find here or on her blog: http://sarawilson.wordpress.com. Contact her directly at wilson.sara@gmail.com.


---
---
---
Leave a Comment