I fell in love the other day. It was the heart pounding, gushing, can't-stop-thinking-and-talking-about-it type of love that's usually reserved for schoolgirls. But here I was at 31 feeling it all in a rush as my breath was stolen away and I couldn't believe my eyes. It was love at first sight, and I did what came naturally: I told my husband, David, all about it. I said it in English, and I even tried it out in Spanish. And then I repeated it again and again in the nooks of the small, winding streets because it only seemed appropriate to be declaring my love to this little village that had captured my heart in a language that could be understood by all.

It turns out that, in Spain, paradise is called Altea—a small fisherman's village along the Mediterranean. This tiny haven is home to musicians, writers and artists alike. And, while definitely a touristy town considering its close proximity to Benidorm (a city nicknamed "Beniyork" for its skyscrapers, though I can personally attest to the fact that it's nothing at all like New York), it offers a reprieve from all that is commercial and mass produced and entirely disenchanting. Unlike Torrevieja, which is crumbling under the pressure of a temporarily hot real estate market and offers a landscape with little character and unfinished buildings, Altea has been carefully crafted with an artist's touch.


I found Altea's stunning coastline impressive, I adored its structures and white pebble beaches, which made me think of Greece (though I have never been), and I reveled in the beautiful restaurants lining the promenade that each have a character of its own and a quality of food and service that is absolutely refreshing. But it was when we entered into the old town—which was once a fortress—that I really started feeling weak in the knees. Beautiful, narrow, pedestrian streets all leading up. Small stores featuring the work of local artists perfectly embedded to complement the scenery. And as I fell head over heels, I greedily drank in more. And the more I took in of my surroundings, the more enchanted I became.

Around every corner there were more buildings to marvel, more winding streets to discover, more restaurants that were so hidden away that they were charming in their exclusivity alone.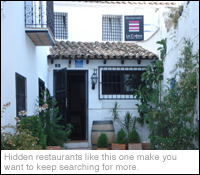 It was a labyrinth of European charm, and I would very happily have gotten lost in this life size maze.

As we slowly weaved our way up the meandering streets, we reveled in the sites. We paused to take a photo of an artist capturing the scenery in a painting, while the woman who lived in the apartment above stood on her balcony to talk to others below. That scene could have been a painting in and of itself. We also tasted the local delicacies, stopping for some mojito and turron ice cream at a small heladeria. But the sweetest was yet to come. At the top, we admired the famous Virgin del Consuelo church and gazed down on a sea of white rooftops and clear blue water.

We left the paradise of Altea at 9 p.m., but only because we had a long road ahead.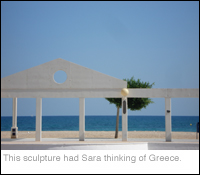 We took the tram back to Alicante and the scooter the rest of the way, arriving in Torrevieja at midnight. And as our perfect day came to a close, we felt refreshed and inspired by what we had discovered. Somehow, life takes on new hues when tinged with love. And therein lies the true beauty of life: you never know what tomorrow will bring. Perhaps love awaits just a scooter and tram ride away.



A Taste of New York in Belgium


It wasn't too long ago that David, Sushi (our cat) and I used to live in a two-bedroom apartment in East Harlem. It was just last October that I was interviewing Richard Branson in Battery Park City for an article that made the cover of the November issue of Entrepreneur magazine. It was just last December that David was preparing a Christmas feast for his employers in their Manhattan penthouse that included celebrity guests and $1800 per 125 gram "000" Beluga caviar. It was just last winter that I and the rest of New York couldn't wait for Spring to arrive and it was just earlier this year that I strolled through Central Park on a gloriously beautiful Spring day. But since we arrived in Spain where the pace of life is slower—the average worker only works 36-38 hours per week—and taxis don't dominate the roads, our life in New York has started to feel like it happened a long time ago.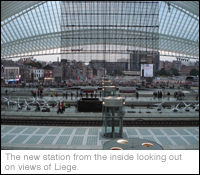 And just when it was starting to feel like another life altogether, I got an e-mail from a PR friend in New York City that would bridge the two worlds. I was invited to cover the inauguration of a new train station in Liege, Belgium. The station had been designed by architect Santiago Calatrava—interestingly, the same exact architect now working on the World Trade Center. Calatrava, himself, would be giving a personal tour of the station the day before the official inauguration.

It was an absolutely amazing opportunity, and I was thrilled to get the chance to go see it for myself and to visit a European city that I had not yet been to. But going on a press trip meant that I had to look professional; and after wearing sandals and tank tops all summer, I wasn't the least bit prepared to attend such a nice event. So David started opening all the boxes that we had pretty much left untouched since they had arrived and together we searched for my business casual clothes.

After about two days preparing, I was ready for the trip. And at 7:30 a.m., we packed the scooter with my garment bag and duffel bag and set off for the airport. I hopped on the plane, arrived in Belgium four hours later, and, though I was still in Europe, I was immediately immersed in the New York style of life. Gathering in the briefing room, the six Americans all commiserating about how unfortunate it was that New York had lacked a real summer this year, the work days that never really ended as e-mails bounced back and forth across the Atlantic on constantly active BlackBerrys, and the exchange of business cards that held promise for future meetings and work partnerships.

It was New York business, but in a setting of European charm. Plus, French was being spoken all around me. How I absolutely reveled in being surrounded by it! I could understand, I could speak, I could even translate for the group! A beautiful river that started in France ran right in front of the hotel, passed through Belgium and continued on to Holland. And the beautiful architecture that just doesn't exist in the U.S.

I have always loved Europe's architecture. When living in Paris for a year after college, I walked the streets hours on end, thrilled to be in the presence of such magnificence. But when we met Calatrava and got a personal tour of the train station, just prior to the unveiling of a 12-year project, it was an entirely different experience. His work came to life and I could suddenly look beyond just the aesthetics and see and understand the beauty of architecture on a much deeper level.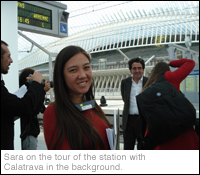 We were later invited to a special dinner at one of the nicest restaurants in Liege and dined in the company of Calatrava and his wife, the ex prime minister of Belgium, and the president of the station. We got to stand in the VIP section (with about 3,000 other people) at the inauguration of the station, just feet away from the Prince of Belgium, and we got to see the only showing of a Cirque du Soleil performance created just for the station's inauguration.

I am back in Torrevieja now. I haven't seen a single American and there isn't a BlackBerry in sight. But, as my New York life collided with my European life, I realized that life's different paths don't always lead to a clear-cut end. Sometimes, two independent paths lead back to a single point where they intersect, even if only for a brief moment in time.

Sara Wilson is currently working as a freelance writer and lives in Torrevieja, Spain with her husband. She has kept a record of her adventures living abroad which you can find here or on her blog: http://sarawilson.wordpress.com. Contact her directly at wilson.sara@gmail.com.