Experiencing San Mateo County
Just outside San Francisco lies beautiful San Mateo County. See why this small wonder is big on adventure.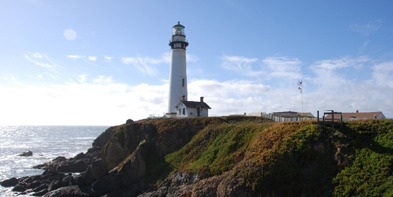 Courtesy of San Mateo County Convention & Visitors Bureau
---
Anyone who has ever visited San Francisco understands why the city has earned its reputation as a romantic getaway destination. What can compare with watching the sun set over the Golden Gate Bridge; dressing up for a night at the Starlight Room; venturing into the countryside for a wine country tour; hopping a cable car to Fisherman's Wharf; or sharing a city view at the Mandarin Oriental? All these experiences and more lure couples back for unforgettable visits to the "City by the Bay."

Small wonder, then, that many people never experience the quieter pleasures just south of the city in San Mateo County. The county spans a 50-mile peninsula separating the San Francisco Bay from the Pacific Ocean, running from South San Francisco and the airport in the north to San Jose and Silicon Valley to the south. The cities and towns of San Mateo County offer rocky beaches, thrilling water sports, working farms and world-class cuisine. And you're only a few minutes away from the unique attractions of San Francisco—either by automobile or the BART transit system (www.bart.gov).

The quiet oceanside community of Half Moon Bay is a popular destination for weekend getaways. Check out the seaport architecture at the newly-opened Oceano Hotel and Spa (www.oceanohalfmoonbay.com), where all 95 suites feature fireplaces and private balconies with views of the coastal mountains and bay. The adjacent Shops at Harbor Village offer 25 boutiques and restaurants right on the hotel property. And if you're thinking of renewing your vows, the Oceano offers everything you need: more than 8,000 square feet of event space, an outdoor area for receptions; and an on-site salon for hair and nails.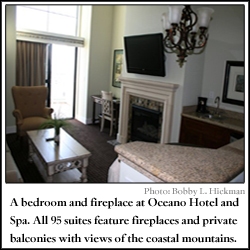 Only a block from the Oceano is the Half Moon Brewing Company (www.hmbbrewingco.com), where executive chef Mark Hamilton merges local seafood and vegetables to offer a unique brand of California coastal cuisine. Another nearby favorite is Pasta Moon (www.pastamoon.com), a top-ranked Italian restaurant featuring hand-made pasta, pizza from a wood-burning oven and one of the most extension wine lists in the Bay Area.

Half Moon Bay is best known as the site of the Maverick's surf contest (www.maverickssurf.com). When conditions are right, waves up to 50 feet emerge and the call goes out to the world's top surfers, giving them 24 hours to make their way to the Northern California coast. If you prefer a little less danger in your adventure, California Canoe and Kayak (www.calkayak.com) offers rentals and tours of the bay.

While the western part of the county features beaches, lighthouses (www.parks.ca.gov) and seasonal views of migrating seals and whales, the eastern portion has the cosmopolitan cities of Burlingame, Redwood City, Palo Alto and San Mateo. The Sofitel San Francisco Bay (www.sofitel.com) in Redwood City near the airport has 421 rooms and suites that provide the modern amenities of a corporate retreat with romantic French touches. Dining in bayside San Mateo is as diverse as in San Francisco itself. In Burlingame, Straits (www.straitsrestaurants.com) serves Singaporean cuisine ranging from lobster and shrimp pad Thai to spicy basil chicken. And The Red Lantern (http://www.redlanternrwc.com) in Redwood City, the made-from-scratch dishes draw on traditions from Indonesia, Malaysia, Vietnam and the Philippines are served in rooms filled with Asian artifacts, including 1,500-year-old Chinese granite soldiers.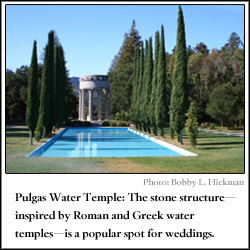 Sightseeing opportunities are also abound in San Mateo County. One of the most popular destinations is the Filoli Estate, a well-preserved century-old country retreat with formal gardens covering 16 acres. A frequent movie and television location, Filoli was featured prominently in the opening credits of "Dynasty." A few miles away is the Pulgas Water Temple in Woodside. The stone structure— inspired by Roman and Greek water temples—is a popular spot for weddings and romantic picnics. Another peaceful spot is the Japanese tea garden in the city of San Mateo's Central Park. Garden paths circle the enormous koi pond, winding past rare plants, a granite pagoda and bamboo groves. The garden, which opened in 1966, was designed by Nagao Sakurai, a landscape architect for the Imperial Palace of Tokyo.

If pop culture is of more interest to you and your significant other, visit the Burlingame Museum of PEZ Memorabilia (www.burlingamepezmuseum.com). Gary Doss has the only collection representing all the PEZ dispensers ever made—including the Guinness-certified largest PEZ dispenser in the world. He's also added a section of collectible toys ranging from Tinker Toys to Color-Forms.

There's plenty more to see and do in San Mateo County, so next time you're thinking about San Francisco, consider the alternatives just south of the city. To learn more about the region, visit www.sanmateocountycvb.com.

Bobby L. Hickman is an Atlanta-based freelance journalist who writes about travel, lifestyle and business topics for a variety of online and print publications. To learn more, or to suggest ideas for future columns, visit www.blhickmaninc.com.


---
---
---
Leave a Comment