Oktoberfest Date Night
Spend a fall night in Germany without the pricy plane ticket.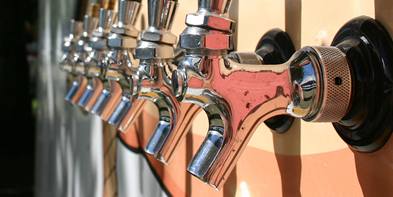 ---
Fall has officially arrived, ushering in cold weather, shorter nights and… Oktoberfest! Most people don't have the luxury of traveling to Munich to celebrate Oktoberfest in true form, but luckily there are mini Oktoberfests held in just about every major U.S. city. If you think Oktoberfest is all about beer and busty bar maids, think again; these festivals offer a fun escape into another country as you're surrounded by everything good that is German: bratwursts, sauerkraut, lederhosen, and (who could live without?) polka. A German-themed date night is the perfect way to welcome fall.

An Oktoberfest date night will be light on the romance, but heavy on the fun. It can also be heavy on the wallet, so be prepared. Like all festivals, you're stuck with festival pricing: $10 beers and $20 souvenirs. Luckily, most Oktoberfests are free to attend or charge a nominal entrance fee of $5. Be careful, though, because some will jack their entrance fees up to as much as $15 or $20 on a busy Saturday night. You can avoid all this—and the long lines—by going early or on an "off" night, such as Wednesday or Thursday. The only negative to going on an off night is that you'll miss out on some of the fun activities such as wiener dog races and keg rolling contests that are typically reserved for the busy nights.

Once inside, there's plenty to keep you busy. There's the eating of course (there's nothing quite like an authentic bratwurst and German potato salad), and then there's the live music and dancing. Every Oktoberfest will have a live German polka band and folk dancers to entertain the crowd. For those brave enough to try, some will even offer free polka dance and chicken dance lessons. If oomph pah pah music isn't your bag, many Oktoberfests also bring in local bands to get your foot tapping.

In addition to eating and dancing, there are booths for purchasing German paraphernalia, playing games, getting your palm read and more. But perhaps the best activity at Oktoberfest is crowd watching. Grab a seat at one of the many communal tables and take it all in. Okay, so perhaps the German beer drinking ranks up there too. If you're still a little squeamish, Oktoberfest is a perfect opportunity to do a double-date with your friends. It may even become an annual tradition that you, your spouse and friends look forward to. Who knows? You and your spouse might even be inspired to buy your own lederhosen or dirndle dress for your own Oktoberfest fun at home.


---