Andreas and Christine
When Andreas, 39, got laid off from his job in 2002, he and his wife, Christine Louise Hohlbaum, 37, left their home in Boston to create a new one in Paunzhausen, Germany. With two children in tow, they are now celebrating 12 years of marriage.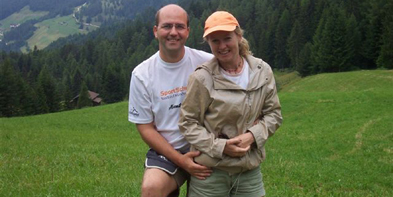 courtesy of Andreas and Christine
---
ANDREAS
Undertaking an international move taught me…
(1) To have a yard sale to get rid of heavy, extraneous items—less to unpack and unnerve your wife with later.

(2) To not start a new job right away in order to give you and your family time to adjust to the new surroundings.

(3) To not trap your partner at home without transportation. I did that, and it caused my wife and me unnecessary stress.

(4) To find a babysitter in the new location ASAP (this is essential in being able to keep a date night).

(5) To not get discouraged by the flurry of bureaucracy around an international move as this too shall pass.

(6) To not use the cheapest movers. Instead, use the best ones that actually deliver—we had to wait 10 weeks before our stuff arrived!

(7) To pack your humor and move it with you. There will be delays and you'll need it.

(8) To listen to your wife carefully when she defines the ideal house and location. The pay-off can last years.

(9) To choose an area for relocation with a high recreational value for the entire family. You'll be sorry if you don't.

(10) Have someone meet you on the other end of your move even if it is local movers—of course, family or friends are even better.

CHRISTINE
Undertaking an international move taught me…
(1) To let your husband know how you are feeling, especially if you are frustrated. Include him as a part of the solution-making process.

(2) To not blame but "reframe". In other words, don't point fingers and say, "You got me into this… now get me out!" He's doing the best he can and truly wants you to be happy.

(3) Search out the local library, post office and other amenities. Find a routine to visit these places often.

(4) To add five weeks to the estimation the movers give you.

(5) To pack more than one season's worth of clothing.

(6) To seek out networking/social events within a few weeks of arriving at your new place.

(7) To not be shy. Find women's groups or playgroups to attend.

(8) To cull through old clothes and items that no longer serve you. Get rid of them!

(9) To seize the new location as an opportunity to learn something.

(10) To keep a blog. In the past three years, I have written/published several books, hundreds of articles and tens of thousands of e-mails. Get a computer and internet access right away to stay in touch with long-distance friends and family.


---
---
---
Leave a Comment