Of Mice and Men
A new home, a charming neighbor, visiting family, and a cliffhanger fills out this week's Couplehood Chronicles.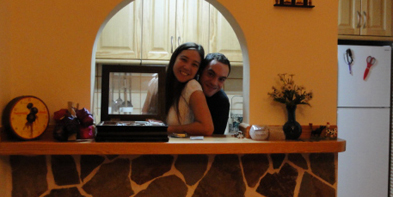 ---
Robert Burns once wrote, "The best-laid plans of mice and men often go awry." Oh, how very true that statement is. Life is unpredictable. You may try to create the blueprints and lay the groundwork to make it happen, but, at any moment, life can throw you a curveball; and when that happens, all you can do is take a swing. It happened to us in New York. One of us getting laid off would have been a fastball. But both of us getting laid off within a week of each other turned out to be a curveball—one that sent us for a loop and dropped us off in Spain. We've learned that life's curveballs can happen at any time.

Leaving Torrevieja was a memorable event that happened in a rather uneventful fashion. We were fortunate to have the help of David's cousin who brought his parents' fruit and vegetable van and two dollies and helped pack the van with all of our stuff. We got our cats in their travel bags and we set off for Altea. While we drove, David's cousin joked that we better not be moving again for a long while. We confidently assured him that we wouldn't be moving again anytime soon. We were enchanted by Altea and excited to be moving up the coast and starting a new life there. We were ready to settle into a home and be able to finally unpack our 22 boxes. We were priding ourselves on getting the move done just days before my parents, sis and brother-in-law all arrived from the United States for a two-week stay.

We arrived to Altea early—an hour before our scheduled appointment at the agency to sign the contract with the landlord—and decided to stop by our new home to see if the landlord, who lives right above, could open the door so that we could at least unpack and send David's cousin on his way. We marveled at our luck! Just as we pulled up the landlord arrived on his motorized-bicycle-looking-gadget and was able to open the door. It was perfect timing and seemed to be a good omen of even better things to come. We unloaded the van quickly, signed the lease and spent the next couple of days unpacking.

Oh, how good it felt good to be home. How great it felt to finally be able to empty and break down the boxes, unpack the suitcases, bring out the decorations and picture frames and photo albums that had been packed away for nearly six months. How nice it was to have big closets and lots of storage. And, as we filled our home with our belongings, we fell in love with our new place even more—everything fit so perfectly. And I commented to David that that's when you know that you're home—when everything falls into place so well and fits like a glove. Our new home was like a castle with a fireplace, and stone walls, and tiny windows, but it was practical as well. And, when it couldn't seem to get more perfect, we heard the church bells counting the hours, reminding us that we were in the very heart of Spain's little paradise; and we happily threw away our 22 boxes because we felt sure that we would be staying a while.

We were happy with our new landlord and pleased to learn that he had built all this by himself, that it was actually his father's home and he had completely renovated it. He was proud of his work and rightfully so and told us the history of the home. He gave us detailed instructions of how to use the brand new stove, he showed us the nifty ice cube tray in the freezer that could be rotated to empty out the ice cubes in the tray below, he pointed out the antique drum that was proudly displayed on a shelf in the living room, he told us how he used an old record to make the clock hanging in the living room. Everything had significance in his beautiful home, and we felt lucky to live in such a meaningful place that was made with such love. And he introduced us to his sister that lived just at the corner and told us that his nephew lived right next door. We felt lucky that we were being welcomed into this little community.

The day after we moved in, he visited several times, staying an hour at a time, and he talked to David about how his dad used to have a bar just across the street, how his mom died when he was young and how his father passed away in 2000. And when he came by again and again, peering into our street-level windows to see if we were home, we felt that he must be lonely and happy to have us living just underneath and we were happy to be on such good terms with him so quickly.

Day two, he visited in the morning and commented on the changes we had made in his home, although, we actually hadn't made too many besides putting our books on the bookshelves. The place was already so nicely decorated we tried not to move too much. He noticed that we had replaced the tiny sun decoration with our Puerto Rican casa, but that was only because he prohibited making new holes in the wall, so we were trying to find a balance between his decor and ours. He was still friendly but I found it a bit curious that he was so observant of our changes as if almost protective of the space. When he continued stopping by and talking to David, I started wondering why. What had seemed like simple friendliness started feeling more like careful watchfulness, but David assured me that he was just making sure that we were good people and that we just had to earn his trust and then he would leave us alone.

I tried to refrain from making judgments and looked forward to my family's arrival instead. I couldn't wait to show them our new home. Not only was Altea stunning, but our little castle was coming together. Surely, we had found the most beautiful place in Altea; and, when they pulled up in their rental car from Madrid, we opened our doors wide and welcomed them in. They loved everything about it. My sister and brother-in-law ran through the rooms, my mom admired the kitchen, my dad was happy. Laughter and joy filled the air. Our new house had become a home.

Later that night, when nearly everyone had gone to bed exhausted from their day-long voyage, David went outside to smoke. The night was quiet, our home cozy. But when David re-entered, his face was sullen and his eyes had lost their sparkle. And I immediately knew that something was terribly wrong. (to be continued…)

Sara Wilson is currently working as a freelance writer and lives in Altea, Spain (maybe) with her husband. She has kept a record of her adventures living abroad which you can find here or on her blog: http://sarawilson.wordpress.com. Contact her directly at wilson.sara@gmail.com.


---
---
---
Leave a Comment