Dream Eaters
King's men, dream eaters and The Dutchess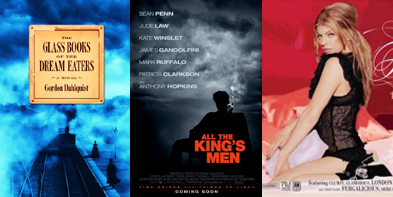 ---
READ
The Glass Books of the Dream Eaters
By Gordon Dahlquist
www.randomhouse.com/bantamdell

Gordon Dahlquist's debut novel, The Glass Books of Dream Eaters, teeters on the edge of bizarre and beautiful as he delves into the strange world of Victorian London and all of its erotic mysteries. Part Sherlock Holmes novel and part Eyes Wide Shut, Dahlquist's novel follows 25-year-old Celeste Temple as she seeks to find the reason her fiancé abruptly ended their engagement. After following her fiancé from his job to a tucked-away mansion, Temple finds herself trapped in a ritualistic ceremony in which she's clothed only in her underwear and surrounded by masked guests. Temple manages to escape, but it's the first of many narrow escapes as she continues to unravel the mystery of the man she once thought she knew so well.

WATCH
All the King's Men
Sean Penn, Jude Law, Anthony Hopkins
www.sonypictures.com/movies/allthekingsmen

All the King's Men is based on the true story of Huey P. Long, a political idealist who rose to power during the Depression as being a man of the people, only to fall into corruption during his term as the governor of Louisiana. In this remake of the 1949 Oscar-winning movie and best-selling novel, Sean Penn portrays the infamous dictator-like governor and is supported by a strong cast including Anthony Hopkins, Kate Winslet and James Gandolfini. It's a troubling (and sometimes sad) look into what happens when good guys go bad.

LISTEN
The Dutchess
Fergie
http://fergie.blackeyedpeas.com

As the powerful voice behind the chart-topping group the Black Eyed Peas, Stacy "Fergi" Ferguson proves she can make it on her own with her infectious first solo album, The Dutchess. Her album features a wide range of tracks, from catchy dance beats to emotional ballads, covering everything from reggae to rock to jazz. Fergi's fellow Black Eyed Peas' bandmate Will.i.am. helped produce and record the album, so expect to hear the same crazy lyrics and club-jumping beats. It's her more introspective ballads, though, that show who the real Fergi is.


---
---
---
Leave a Comment