The Importance of Apology in Marriage
Why apologizing to your spouse isn't considered a weakness in your marriage.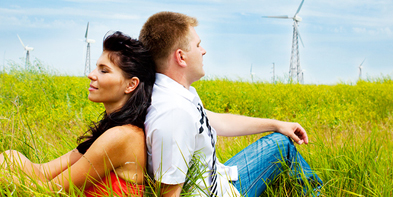 ---
Many of us are pretty good at telling our spouse, "I love you" on a daily basis. These three words are easy for most of us to say: we say them as we leave for work, at the end of a phone call and after a kiss good night.

It can be a bit more difficult to utter the words, "I'm sorry." Maybe we don't like to admit fault because we feel that it puts us in an inferior position. I suppose we think it takes away our power and makes us weak. So instead we keep silent, pretending we did nothing wrong and treat the person we love the most...the worst.

My husband has always been quick to apologize, and that doesn't make him weak or inferior. On the contrary, it makes him an incredible husband who doesn't let arrogance get in the way of having a great marriage. It takes courage to admit fault and whenever he does so, I feel very loved.

In a recent TV commercial, a man apologizes to his girlfriend and she responds flirtatiously, "I like a guy who can admit he's wrong." He grins and says, "I'm wrong a lot!" We miss an opportunity to strengthen our marriage every time we decide not to apologize for being a jerk. We also miss a chance to show our children what a healthy marriage looks like.

Here are some examples of apologies you can use to make your marriage stronger:

* "I'm sorry I belittled you in front of the kids."
* "I'm sorry I gossiped to my friends (or mother) about you."
* "I'm sorry I made my parents' needs a priority over yours."
* "I'm sorry I acted bossy and controlling this morning."
* "I'm sorry for spending a lot of money without discussing it with you first."
* "I'm sorry I expected you to read my mind; next time I'll tell you when I need help."
* "I'm sorry I committed you to doing something (for my friends, parents, etc.) without asking you first."
* "I'm sorry I was impatient with you."
* "I'm sorry I put you on a guilt trip earlier."
* "I'm sorry I gave you the silent treatment."

If you don't like to apologize, then perhaps you can reduce the need to do it so often. Most of us are more likely to say or do something inconsiderate if we're feeling exhausted, overwhelmed or hungry. Pay attention to your body's signals. If you're feeling grouchy around 3 p.m., eat a granola bar instead of yelling at your wife. If you can't keep your eyes open, take a power nap instead of glaring at your husband. If your "to do" list is five pages long, then prioritize the tasks and ask for help (nicely) with the most important things.

Of course, apologies should be accompanied by a sincere effort to improve your behavior in the future. It doesn't do any good, for example, to apologize to your husband for disrespecting him in front of your kids if you continue to do it.

The next time you're reluctant to say you're sorry, remember this great quote (author unknown): "An apology is a great way to have the last word."

Jenna D. Barry is the author of "A Wife's Guide to In-laws: How to Gain Your Husband's Loyalty Without Killing His Parents." Find more at www.WifeGuide.org.


---
---
---
Leave a Comment