Drink For Raise
Can drinking more really pad your paycheck?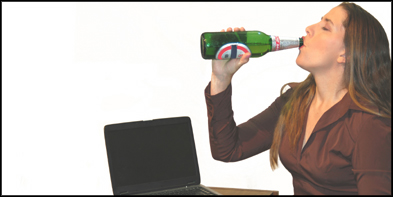 ---
Not earning enough money? Well, maybe what you need is a shot of liquid courage. It's probably not the healthiest way to get a raise, but a recent study argues that the bigger the drinker, the bigger the paycheck.

The Reason Foundation released a study a few weeks ago saying that drinkers earn 10 to 14 percent more money at their job than nondrinkers. More specifically, men who drink earn 10 percent more than men who don't drink while women earn 14 percent more. It seems fairly obvious as to why this is. Experts say that social drinking helps people bond. Going out for a drink with the gang from work can help people get to know each other and become better co-workers—and stuff the coffers when it's pay raise time.

"People enjoy working with and doing business with individuals that they have bonded, and this can definitely happen over a drink or two," says Lucinda DuToit, HR director for Digineer. "If you spend more time socializing for your career success there is a direct correlation to how successful an individual will be. Individuals that are more social tend to go out more and spend time with a variety of groups."

But before you start hitting the bars with the excuse that you're working overtime, you should probably take note that social drinking shouldn't be taken too lightly.

"Unfortunately, many 'social' drinkers are actually undiagnosed early stage alcoholics," says Doug Thorburn, author of Alcohol Myths and Realities. "Alcoholism causes egomania. Inflating the ego requires that one wield power over others. Such power is exerted by abuse and, contrary to what we would want to believe, overachievement."

"I think the keys to success definitely do not need to be associated with drinking," says executive recruiter Carly Drum. "In fact, they should probably do a study with how many people have ruined their careers because of that same issue."

The warning here for married couples isn't that alcohol is inherently dangerous, but that as Drum says, social events for work shouldn't count as an excuse for drinking. "I think family should always come first. So if socializing is getting in the way of a marriage, another method for networking should be found," Drum says. "There are plenty of ways for people to get to know each other and develop a nice working relationship that does not involve alcohol."

Schmoozing away those happy hours may make you a more likeable person in the office but careful there, barfly. Finding a happy medium between your work and marriage can get tricky, but it's important to remember that drinks after work isn't as important as happy hour at home.


---
---
---
Leave a Comment