How to Turn the Sexual Dynamic Around in Your Marriage
Itís not rocket science, but couples often need to be reminded of a few basic points to keep the bedroom flare alive.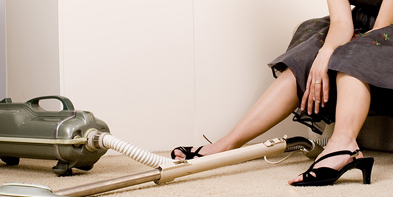 ---
Not much has changed since our grandmothers told our mothers on their wedding night to, "Stare at the ceiling and think of England dear. It will be over soon enough."

Todayís woman canít admit that the intercourse part of the sexual experience probably isnít doing it for her. Sheís supposed to be sexually emancipated, free to express her needs, wants and desires. And yet for a lot of married women, intercourse is known as the "waiting it out and hoping itís over soon" portion of love making.

What makes this even more ironic is that a man is socialized to last as long as possible, as doing so will give his wife the maximum amount of satisfaction. All the while she is thinking, "Please let this be over soon. My TV show starts in five minutes and I donít want to miss it." Of course, neither party discusses their intercourse differences.

Itís funny if you think about it. Maybe not.

Intercourse is meant to produce a vaginal orgasm. However, not all women can have a vaginal orgasm. In fact, approximately one third of women do consistently; a third of women will sometimes if they are sufficiently aroused; and a third of women will not. The last group cannot due to her "x" chromosome, as opposed to a lack of technique or her being too uptight.

Generally, when the average married couple walks into the bedroom, their lovemaking will last 12 to 13 minutesóyes, researchers have done studies on duration. It takes most women 10 to 15 minutes to become properly aroused. Meaning that the average gal isnít aroused enough or at all when she starts to have intercourse. Hence the reason for her lack of enthusiasm during the experience.

And for you men who are thinking, "Well, I always do my best to give my lady an orgasm before itís my turn." Guess what? A woman can have an orgasm and not be at all aroused.

I appreciate that this must put menís panties in a twist. Here you thought you were fulfilling your end of the sex bargain when, in fact, most women need a lot more to make her sexual experience fulfilling. Let it be said that when a woman is suitably aroused, intercourse is a welcome and delicious part of the event. Itís not whether she can have a vaginal orgasm or not, for her itís all about the overall experience.

So the trick is to make sure that she is adequately aroused. To do this, she needs at least five to 10 minutes of foreplay. No, not rocket science ,but apparently couples need to be told this over and over again.

What can a couple do to start turning their dynamic around? Having the, "Actually, I havenít gotten much out of intercourse for many years," conversation is like saying, "Yes, I have been faking orgasm for awhile." Awkward and guaranteed to produce hard feelings.

Instead, you two need to focus on adding extra time to the front end of sex. And the time you spend isnít focused on giving her an orgasm. The goal is that we must get each other off in order for this sexual experience to be successful, which is most likely what got you into the mess in the first place. Think of it as an exercise in sensualityócaressing, kissing, massagingóthings that are going to help both of you relax and be that much more into the sex. Sensual foreplay, no matter how you look at it, is a win-win proposition for all participants.

However, a lot women at this juncture roll their eyes and think, "Gosh Iím just too tired and donít want to spend any extra time on sensuality." These women intentionally skip foreplay so they can get the sex over with, which means they are shooting themselves in the foot.

Ladies, itís an extra five minutes that is going to create a better experience for you and overall better couple intimacy. You both are making concessions, which in the long run is fair. With a little bit of effort, thinking of England will be but a distant memory. Thank goodness and itís about time.

Dr. Trina Read has a doctorate in human sexuality. Dr. Read is also an international speaker and offers free sex tips on her website www.bestsextipsever.com. To order her book, "Til Sex Do Us Part," click here.

You can also hear more from Dr. Trina Read on the Hitched Podcast.


---