Use Colors to Create a Romantic Bedroom
Create the perfect bedroom sanctuary for you and your spouse with a few passionate colors.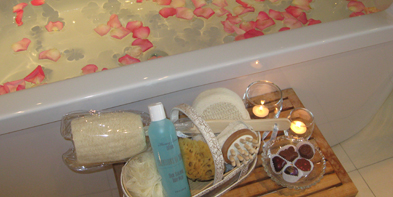 Courtesy of Love Life Designs LLC
---
Creating an evening of romance at home does not have to break the bank. You can start by drawing a bath and filling the tub with scented oils and rose petals. Add a side table and fill it with your favorite bath mates: chocolate truffles or your favorite chocolate delicacies, add candles and your favorite beverage. A champagne toast will add a nice touch for a toast to your love.

If you are looking to do something more dramatic, like changing the décor and color scheme, start with paint colors and build from there.



The Bedroom.

There are several colors which are really quite sexy. A few of my absolute favorites are red, blue and purple. These colors are known to spark romance, sensuality and intimacy. The colors are quite sexy for your master bedroom decorating theme. Here is a lesson in color before you get started transforming your sanctuary into a sexy, romantic oasis. Let's start with what is often considered the sexiest color first and work our way down.



Red


The color red symbolizes romance, passion and a heightened awareness of one's sexuality. It is bold and can dominate the room. I do not recommend painting the walls completely red because it can cause the opposite effect which is depression and over aggressive behavior. If you want to use red as the dominant color in your room do it with the use of accents and accessories such brilliant accent pillows and red silk sheets. Beautiful silk sheer curtains and a nice red glass vase can make a dramatic statement that says, "Enter at your own risk!" Be bold and daring; throw in a few animal accents like a zebra or a leopard rug.



Purple


Purple is another color that is romantic and passionate. Purple appeals to the senses of both men and women. It is a color that is cool, creative and imaginative. Like red, purple can be overwhelming so just use for accents. If you're ditching the paint, use splashes of purple in items such as a sexy purple 1,000 count 100% Egyptian cotton sheet set, fluffy accent pillows, flowers and candles.



Blue


Blue is an alternate romantic color. It is known to symbolize peace, tranquility, trust and reliability. When you think about it, all of these words are elements of romance. Just like red and purple don't overdo it, simple accents like bed pillows, sheets, and accessories will add warmth to the room.

With the color palate down, it's time to think about your linen. Purchase sexy linen fabric like silk, satin and Egyptian cotton. Stay away from busy patterns that distract. Select solid color sheet sets instead, second to the paint color bedding is an excellent foundation for your decorating theme.



Note:

Always, always add romantic decorating accents. Things like candles, flowers, beautiful unusual decorative glassware and crystal lamps. I love fancy beautiful night lights that you can find at your local favorite stores or flea markets—they give the room a nice romantic glow! Add a sexy photo of yourself to the nightstand; you don't want to kill the sexy mood and intimacy by rolling over and seeing a picture of grandma! Remember, these little changes are easy to accomplish and can be just the spark you need to get the romance roaring.

Mary Chatman is a romantic decorating specialist and founder of Love Life Designs, LLC, a romantic decorating and design firm facilitating Atlanta, Los Angeles and New York City. For more information or to add romance to your abode, visit www.lovelifedesignsllc.com.


---
---
---
Leave a Comment