Looking for a Business
Sara and David have a business on their radar, but will they pull the trigger?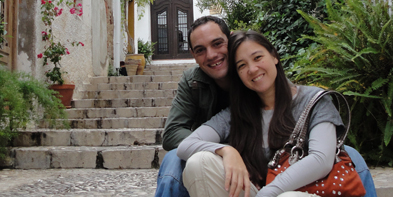 ---
I was 16 years old when my parents were approached by a group of people trying to raise capital in order to keep the Fahrenheit 451 bookstore in Laguna Beach, California open. They came to my parents for money because they hoped that, as former owners of the bookstore, my mom and dad might embrace the cause. I hoped the same and tried to talk them into it, but for slightly different reasons. The thought of owning a business was exhilarating. I could just imagine myself working the register and seeing the money flowing in. I wished that my parents hadn't sold the store before I was born and saw this as a chance to reclaim it. Later, I would come to understand why they decided against it. I would become rational and logical and would think only of the risk, the stress and the responsibilities that owning a business entails. At that time, however, I could only see the fun side and dreamed of owning a business of my own when I grew up.

It has been a long time since that memory stood at the edge of my consciousness, but since July we've been searching for the right business opportunity. David and I saw practically everything that was for rent and for sale in Torrevieja, Spain, ranging from a space so small that we wondered where we'd stock the supplies to a restaurant so big that we wondered how we'd pay the rent. But big or small, there was always something that just didn't feel quite right.

Then, in September, we visited Altea, Spain, and fell in love with it. We saw an apartment for sale and, on a whim, decided to call the owner to see if we could visit it. He showed us the newly renovated two-bedroom apartment that was on sale for about $150,000 and asked us if we wanted to see another property that he was selling. It turned out to be a three-story house in the old part of Altea; as soon as we saw it we started dreaming. We could live on the third floor and turn the other floors into a tea house. The house was full of character and charm and we went home brimming with ideas, but soon faced a reality check. As beautiful as the house was, as long as it was priced at $500,000, there was no way that we could afford it.

So our search continued and we returned a second time to Altea. We visited a little bar that was available as a turnkey just one street over from the house. The rent was about $650/month and it was small enough for just the two of us to run, yet large enough to work with. While the sign outside announced that it was an art and internet lounge from the inside it was clear that it was being run as a bar. Nevertheless, the space had potential. Transformed from an old house, it had a mezzanine, small windows, a decent stock room and it was just one street down from the church on one of the most charming streets of Altea.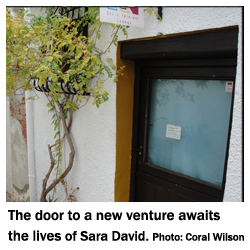 We started frequenting the bar and discovered that it was a very cool, local hangout. We started to get to know the people who hung out there. Among them we met Ignacio, the son of the mayor. And after much contemplation, we decided to take the leap and buy this business. And we met with the owner, Pepe, and the landlord in a meeting shortly before we would sign the papers at which time David asked to see the actual business license.

David's stepmom had warned us countless times to make sure the license was in place. And we had asked about it the first time we saw the cafe/bar but had put it out of our minds after getting assurance from the landlord's son that all the papers were in order. However, this time, when David asked to actually see it, the story was different. Pepe informed us that it was being processed, but that this was normal for businesses here. Running at the snail pace things move in Spain, the license had been applied for three years and seven months ago and they were still waiting! In the meantime, the business was fully operating. There was an established beer provider, wifi and telephone service, a faithful clientele; the only thing missing was the license.

Armed with this new information, we decided to not take the business. We called the next day to cancel the deal. Pepe asked to meet and so we did. He assured us that he would cover the costs of any changes required for the license (we knew for a fact that the staircase would have to be widened) and even offered that we could pay half the turnkey up front and the other half when the license was approved. We were wrought with doubt and confusion. If he was really willing to cover the expenses, then that would greatly reduce the risk. And if he was willing to wait for the remaining amount of the turnkey fee then he would have reason to make sure it went through.

Slowly, we tilted back toward taking it and set up a business account and even arranged a transfer of half the turnkey fee into his account. And then we left the bank and rounded the corner to go see the landlord's son at the computer store that he owns, and, there, we not only found the landlord's son but also his father and Pepe. And from the look on Pepe's face, we knew that something was wrong. We went out for a coffee and he told us that, honestly, he wasn't sure how long it would take to get the license and how big of an ordeal it would be. He told us that he preferred that we make our decision with everything out in the open and that we could take our time to decide. Just as we had grown to trust him, he had grown to like us and, apparently, couldn't sell the business to us without being completely honest. At this point, he was beginning to feel more like an accomplice than someone trying to sell his business to us.

We were taken aback by his honesty but also deeply troubled. How could we go forward with the deal when even the seller was basically warning us against it? We immediately stopped the bank transfer and went home, disappointed and lost once more. It seemed as though our first attempt at buying a business had ended in a dead end. More importantly, we realized that buying a business in Spain was very complicated, indeed. The whole process had been exhausting, and we decided to start a new search—for jobs. After all, every other business for sale in Altea was more than double—but, most often, triple—the price, which we just simply couldn't afford.

Sadly, a small miracle would have to happen for us to even reconsider taking this one.

Continued...

Sara Wilson is currently working as a freelance writer and lives in Torrevieja, Spain with her husband. She has kept a record of her adventures living abroad which you can find here or on her blog: http://sarawilson.wordpress.com. Contact her directly at wilson.sara@gmail.com.


---
---
---
Leave a Comment