A Business Miracle Happens
Sara and David give up hope on their business dream, until…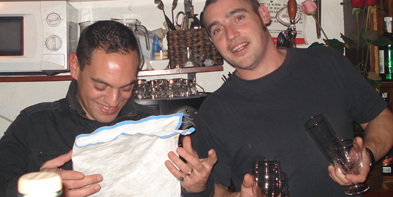 ---
…Continued from "Looking for a Business"
The situation was looking hopeless and David and I were just exhausted from the up and down process. We had arrived at a point where we could no longer justify taking over the business and, at last, we were at peace with the fact that it was our final decision to not purchase the business. David sent Pepe, the business owner, a message saying that we had decided against the business. And with that, we assumed that we had put it behind us, closed that chapter, and resigned ourselves to looking for jobs.

Then Pepe called. Surely he was going to try to change our minds. After all, it being the dead of winter, we were definitely his only prospects for buying the business. On top of that, it was becoming obvious that he was getting burnt out from his crazy schedule and had even reduced the hours of the business and was now only open on the weekends. David let the call go to voicemail and I went to go take a shower. When I came out, however, David had a look of disbelief on his face and said Pepe had sent a text message. I couldn't understand what written words could have produced such an expression, but when I read the message, its meaning slowly washed over and had the same profound effect on me.

"Please call me," Pepe wrote. "I just received the letter from the city hall. We got the activity license." Three years and seven months had passed since the application had first been submitted. The fact that the city had finally come through and granted the activity license at exactly the same time that we had decided against the business precisely because it didn't have the license seemed too uncanny of a coincidence.

Could it really be true? David asked Pepe to e-mail a copy and there, on the screen before us, was the one thing that could possibly change our minds. The activity license had, indeed, been granted. Now, all that remained was an official inspection to make sure that the business specifications matched the application and then the license to open would be granted. It would take a couple of months at the most and there was no way that the business wouldn't pass the inspection because the inspector just happened to be the architect whom Pepe had put in charge to get the license. As long as the inspector/architect saw that the steps were being widened—the one point on the application that needed to be altered—he would give his approval.

Thus, the activity license basically was the license to open. And with the license, the business suddenly took on a significant amount of value. There were many businesses still in the application stage. There were many business owners who had been waiting for years for word from the city. It had been nearly four years since the application for this business had been submitted. We just happened to enter the picture right when the long road was coming to an end. We just happened to be in the right place at just the right time.

But we didn't run around or scream with joy. We sat there in shock and just tried to make sense of it all. The last several months had been such a bag of mixed emotions, of difficult decisions, of false starts down one path only to turn around and head back in the opposite direction that now that the missing piece was now in place, we simply didn't know what to make of it. We had been looking for signs and had found several conflicting ones—to the point that now we were simply just confused by what they all meant and which ones to follow.

David went to meet with Pepe and I stayed home to do an interview for an article I was writing. It was just as well. I needed some time to process everything. However, when David came home I didn't need to talk to him to know what our final decision was going to be because I already knew.

A small miracle had actually happened. Just like that the one major obstacle had been removed. The path before us stretched wide open now all we had to do was take the first steps forward.

So we're doing just that. It won't be long now before we have a business of our own in Spain's little paradise!

Sara Wilson is currently working as a freelance writer and lives in Torrevieja, Spain with her husband. She has kept a record of her adventures living abroad which you can find here or on her blog: http://sarawilson.wordpress.com. Contact her directly at wilson.sara@gmail.com.


---
---
---
Leave a Comment